Remodeling a bathroom is always extensive work which certainly takes some time. A bathroom remodel often creates inconvenience, especially if you have only one bathroom in the house.  For this reason, you should be aware of the length of a bathroom remodel.
The length of a bathroom remodel depends on the size of the room and the extent of the remodel itself. Therefore, a small bathroom is less demanding than a larger one in terms of renovation. However, that is not always the case. That said, how long does it take to renovate a bathroom? Let's have a look.
Length of Bathroom Remodel Based on the Scope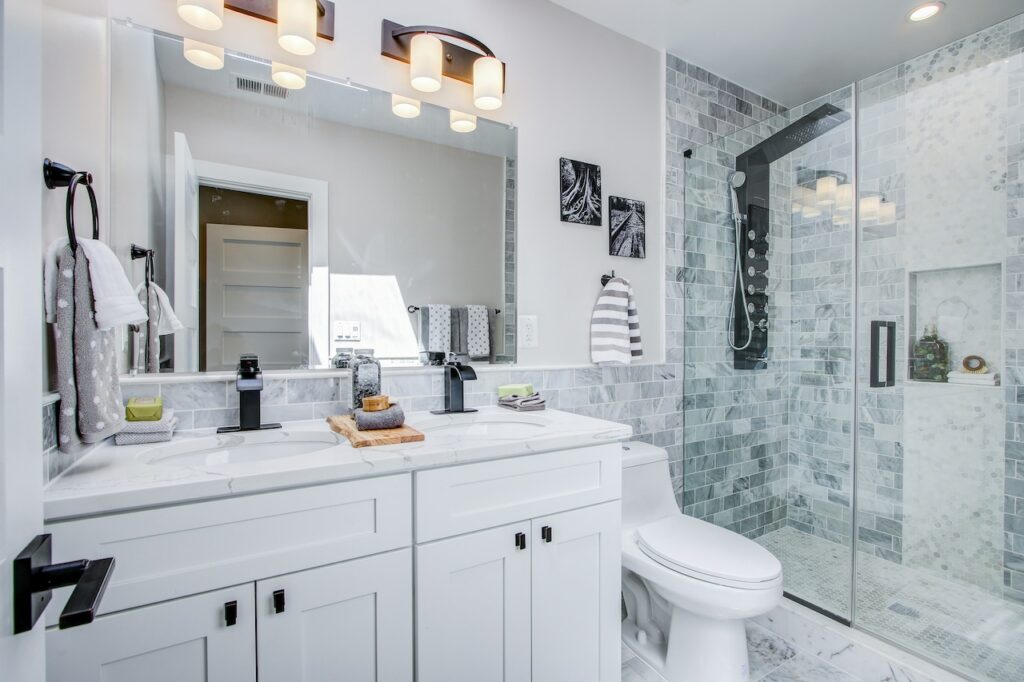 As stated earlier, the scope of the remodel is a determining factor for the length of the bathroom remodel. Here is a breakdown of the time it takes for bathroom remodel depending upon the extent of the renovation;
Minor Remodel: 3 to 5 Days
Minor remodeling of the bathroom is often concerned with giving a facelift to the bathroom, primarily through installing bathroom flooring and walls and, more generally, a new decoration.
For a quick little renovation, allow an average of 5 days. A minor renovation could also include a new paint coating, removing old decorative accessories like a mirror, laundry basket, and storage, and replacing them with new ones.
Major Remodel: 1 to 2 Weeks
Major remodeling of the bathroom also involves additional structuring of the space. For example, you want to change the bathtub or replace a shower cabin with a walk-in shower or install new tiles. For an average renovation, plan around seven days of bathroom remodeling work.
Complete Bathroom Remodel – 2 to 4 Weeks
Complete bathroom remodel is a total overhaul of the space. For a complete renovation, it takes three weeks on average. However, sometimes it could also take more.
The renovation includes the installation of a new plumbing network and the electrical installation. A complete remodeling project also involves replacing all workstations, sanitary equipment and storage, floor and wall coverings with new ones.
Complete Timeline for Bathroom Remodeling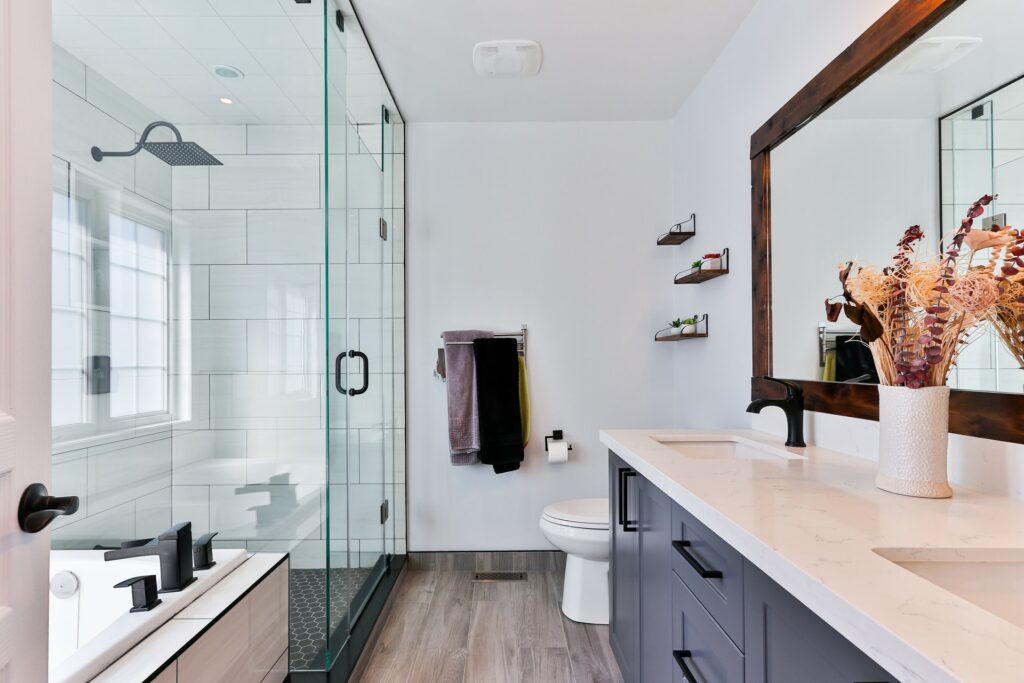 Demolition of the Bathroom
Before proceeding with the fitting out of your bathroom, it is necessary to remove the existing materials and equipment such as shower, sink, bathroom tiling, etc.
Demolition work takes time! Especially if you are attempting a complete bathroom remodel. For this, you can expect to add one day to the total length of a bathroom remodel.
Plumbing
A bathroom cannot function without a proper plumbing arrangement. So, do not try to rush the process to wrap up the whole thing in less time. Understand that plumbing usually takes time. Therefore, allow between 3 and 5 days for plumbing work.
Electrical Work
Similar to plumbing, electricals also involve some major work. To upgrade the electrical network and install light points and secure electrical outlets, allow around three days on average.
Installation of the Bathtub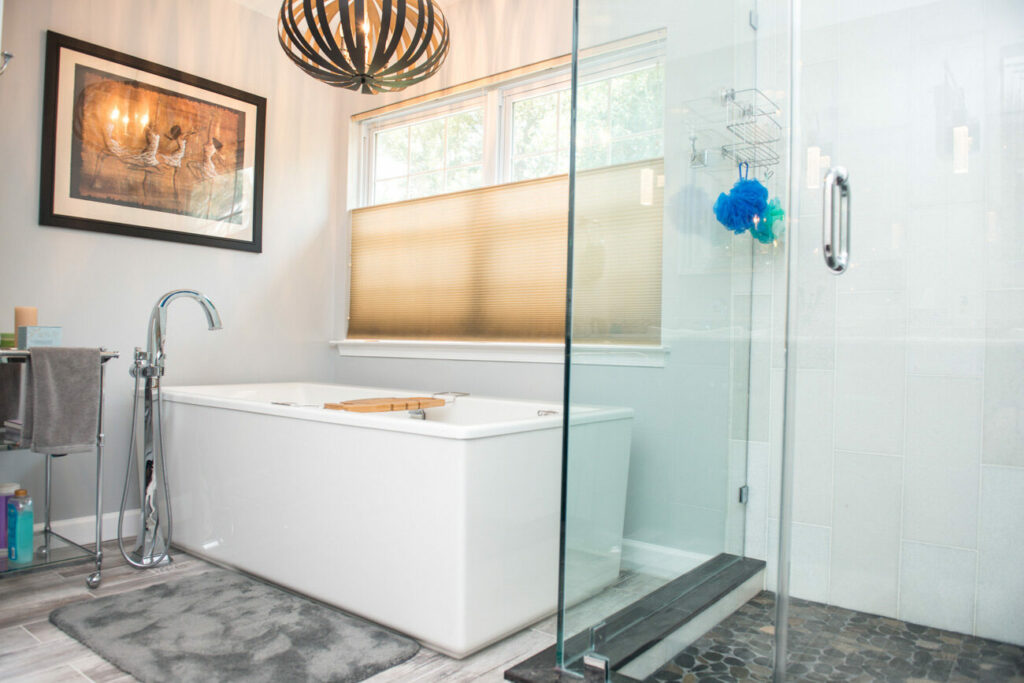 Replacing your bathtub includes the connection of the equipment to the sewage inlets and outlets, along with the sealing of the silicone gasket around the equipment. For the installation of the bathtub, you should allow an average of 4 hours.
Shower Installation
For the shower installation, the model chosen is decisive in the timeframe for the bathroom remodel work. For example, a classic shower cubicle will take anywhere between 3 and 4 hours, while a more exotic masonry shower will take 2 days on average.
On the other hand, if you opt for a walk-in shower with a tiled shower tray, plan for at least 3 days. For installing the faucet, both a conventional column and built-in faucet allow between 2 to 3 hours.
Toilet Installation
Same as the shower, the time for toilet installation varies from model to model. From fixing the toilet to its place to connecting the plumbing and other accessories, expect a time frame of about 3 hours.
The Installation of a Cabinet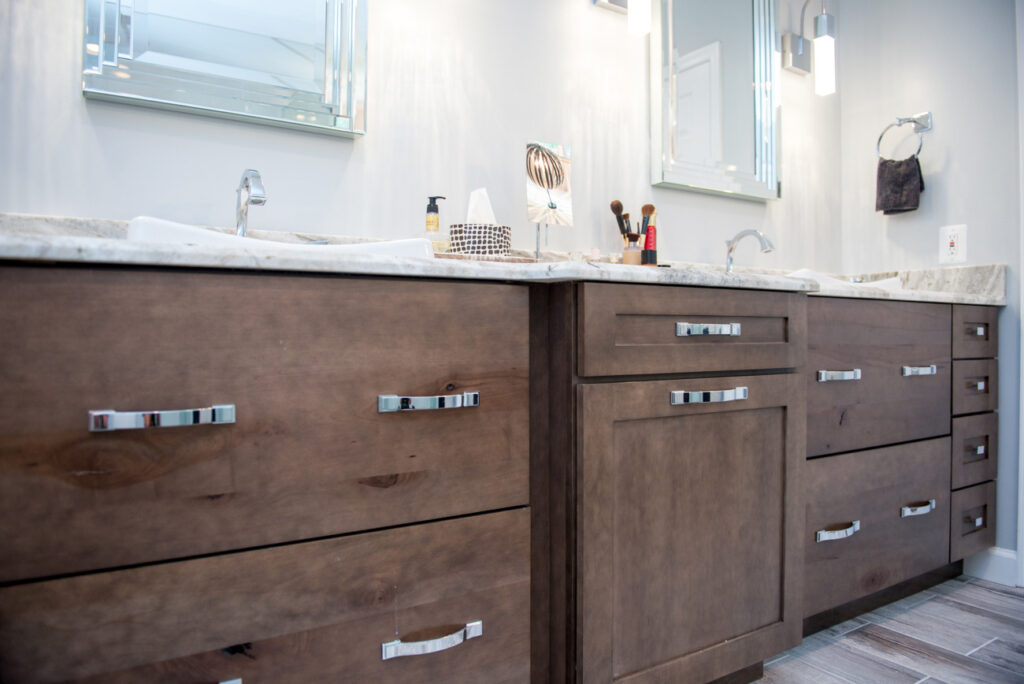 Bathroom furniture is also an essential part of the space, like a freestanding cabinet. Allow about 2 hours for this type of equipment.
Floor and Wall Coverings
Flooring and wall covering comprise a major chunk of the bathroom remodel length. Expect a longer duration for this work to complete. To dress bathroom partitions with ceramic, mosaic, or concrete tiles, plan one day if you call in a bathroom remodeling contractor near you.
Moreover, for installing a solid parquet or tiling on the ground, count two days on average in your bathroom. Incidentally, the bathroom often offers relatively small surfaces that are easy to cover up. If you are applying paint, plan for about 6 hours.
Additional Factors that Influence the Length of Bathroom Remodel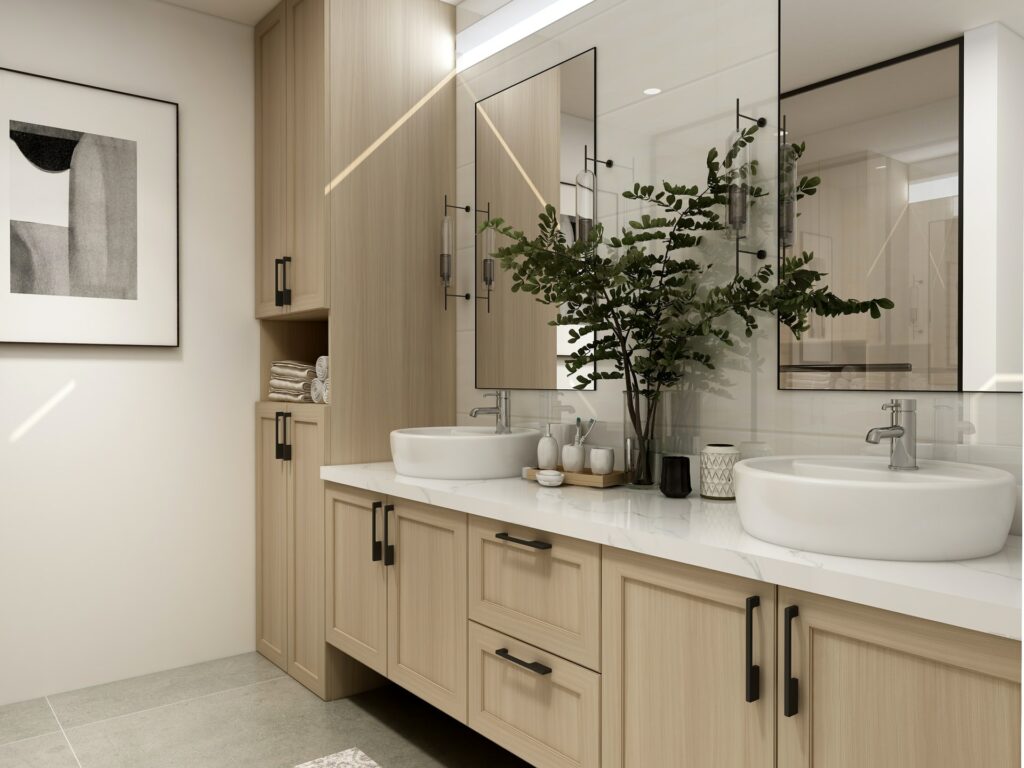 Dimensions
As already mentioned, the length of bathroom remodel also depends on the dimensions of the bathroom. There will be less work to be done in a small bathroom, regardless of the scope.
A bigger bathroom may include more equipment like a washing machine etc. It also needs more area to cover for flooring and painting, and hence needs more time.
Season
The season may seem a trivial factor, but you should never overlook it. The season could impact the duration of bathroom remodel. It's wise to avoid the winter or rainy season if you are planning to remodel your bathroom.
Number of Workers
More workers translate to more work which means a lesser duration for bathroom remodel. However, it's true where the bathroom is of larger size and could accommodate several workers simultaneously.
For a smaller bathroom, no more than two or three workers can operate there at a time. This inevitably means that you cannot carry out different types of work like plumbing and electrical at the same time, and therefore renovation work stretches out.
Streamline the Work to Save Time
Photo by Zac Gudakov on Unsplash

It's best to order your sanitary equipment well in advance of the work. Stock shortages, extended delivery times, breakages during the work are all quite common and could extend the length of a bathroom remodel.

Prepare an action plan and stick to it! Remember to include deadlines for each assignment. It would be wise to hire a professional to foresee the whole project.

Expect that the duration could extend due to unforeseen events and prepare in advance. Keep a margin of at least 4 days in case of delays.