Homeowners often feel confused by the cost of kitchen remodeling in Laurel, MD. Most likely because it is challenging to get an exact price for a remodel. A simple reason behind this is that each kitchen has its own unique features, needs, quirks, and fixes. 
In terms of materials, you have budget options as well as luxury options. On top of all that, kitchen remodels contractors in Laurel, MD, charge different rates based on their experience.
Although it may be difficult to get the exact kitchen to remodel cost in Laurel, MD, you can start thinking about your remodeling budget as soon as possible. Moreover, to help you get started here's a breakdown of costs for a standard kitchen remodel in Laurel, MD. 
How Do I Budget My Kitchen Remodel?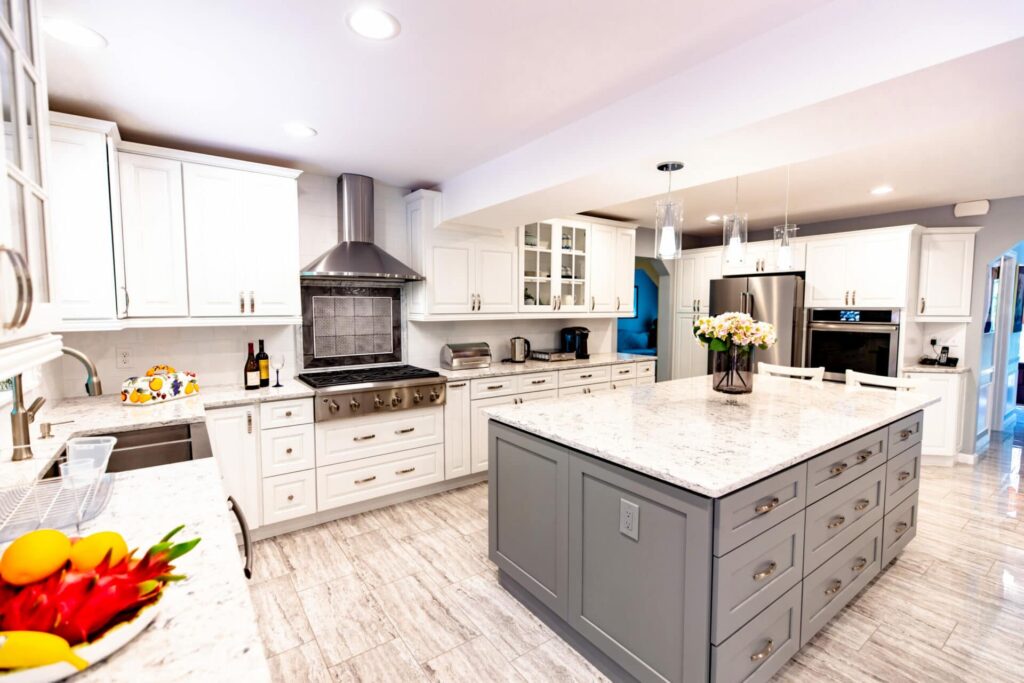 Your budget is an important aspect of the kitchen remodel. It shapes what is possible with your kitchen, from the materials you choose to the contractor you hire. 
For an average, medium-sized kitchen remodels, $15,000 to $50,000 is a reasonable starting point for your budget. Your kitchen remodeling budget will depend on things such as home value, project scope, and product selection. 
Do you want to demo your whole kitchen, including relocating walls and utilities? It will be costlier than simply replacing appliances and kitchen cabinets in the existing layout. 
Here's a budget breakdown:
Cabinets: 29%

Appliances: 17%

Install: 13%

Countertop: 11%

Lighting & Electrical: 10%

Plumbing: 6%

Flooring: 5%

Backsplash: 5%

Miscellaneous: 4%
What Does a Typical Kitchen Remodel in Laurel, MD Cost?
The national average cost to remodel a kitchen is around $23,000. The number doesn't tell you the complete story, though. 
Your new kitchen can cost anywhere between $15,000 to $50,000 or more, depending on the size and scope of the project. Further, typical kitchen remodels range from $13,500 to $35,000.
Here's a breakdown of the cost of kitchen remodeling in Laurel based on the scope of the project.
Minor Kitchen Remodel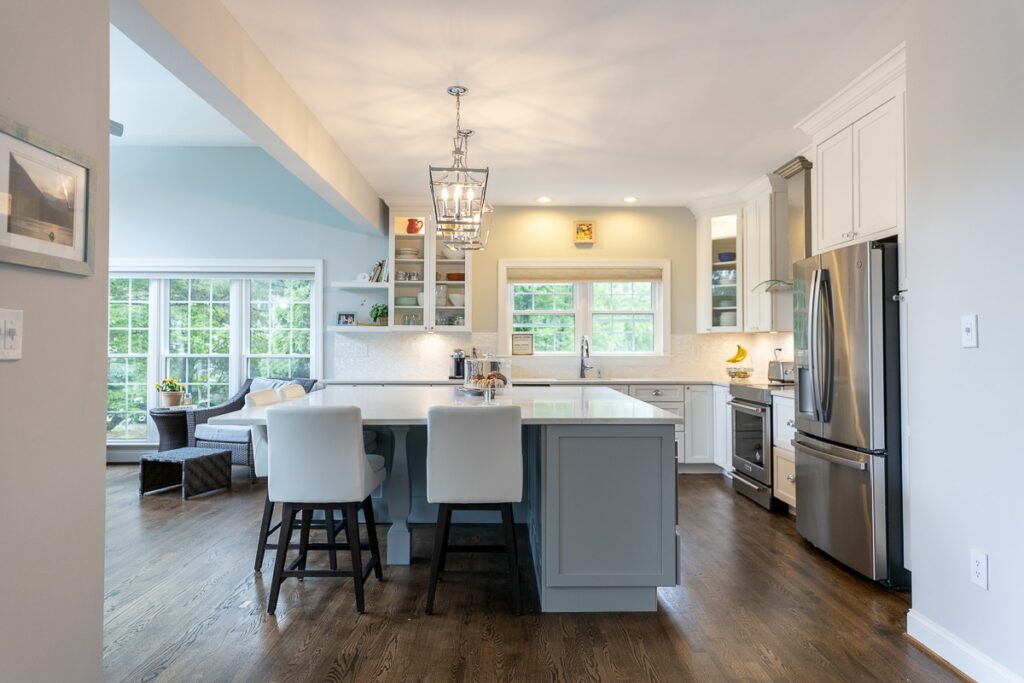 A minor kitchen remodels aims to persevere the layout of the existing kitchen while refreshing its overall appearance and usability. The primary changes are usually cosmetic and include budget fixes such as painting walls, adding new flooring, or buying energy-efficient appliances. Similarly, the cost of a small kitchen remodel would also fall into this category due to the size.
A minor kitchen remodels in Laurel, MD would cost you around $10,000 to $24,000. Minor kitchen remodels usually includes: 
Refacing cabinets or the additional entry-level cabinets 

Appliances updated to new, energy-efficient models

Reinvent kitchen countertops, sink, and faucet

Painted walls 
Major Kitchen Remodel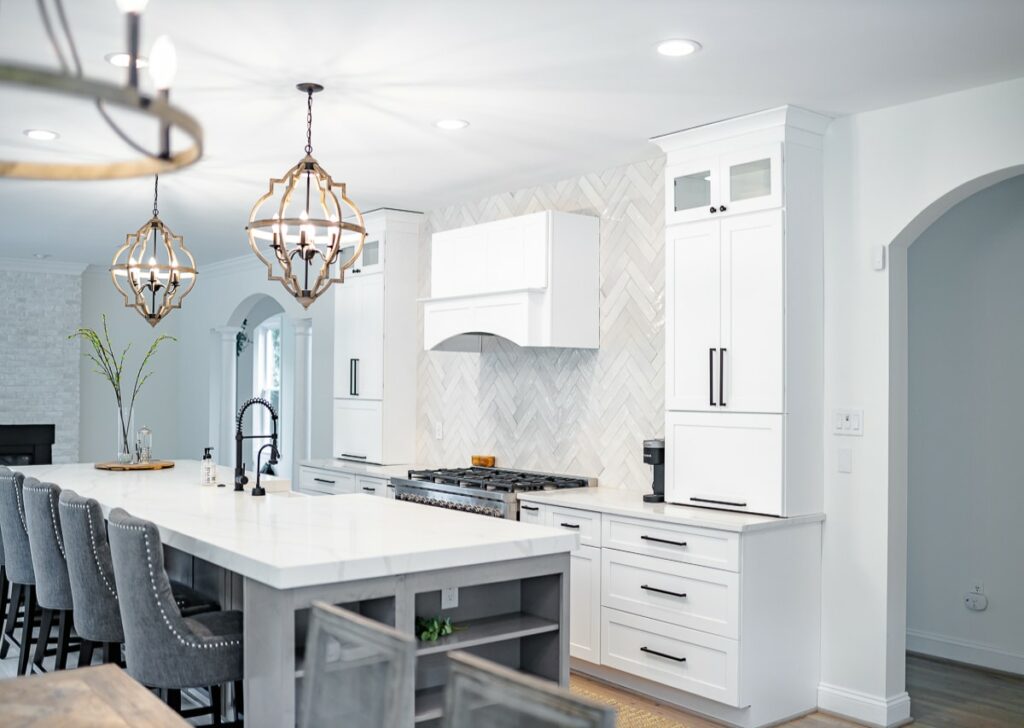 A major kitchen remodel involves a larger overhaul of the existing kitchen than a minor remodel. Further, essential features, such as appliances, lighting, and flooring, are replaced with new versions. Replacing cabinets is one of the most expensive aspects of a kitchen remodel 
You can also include semi-custom cabinetry and a high-end sink with a matching faucet. Interestingly, semi-custom cabinets are customized and come in versatile sizing and varying door front options. A major kitchen remodels in Laurel would cost you around $28,000 to $50,000.
Major kitchen remodels include:
Semi-custom cabinetry 

A 3-by-5-foot island 

New appliances, including a garbage disposal 

New countertops with a deep, spacious sink and faucet 

Custom lighting 

New flooring
Upscale Kitchen Remodel
An upscale kitchen remodels typically includes specialty or luxury additions. Items such as high-end countertops, top-of-the-line appliances, and built-in water filtration systems that help a kitchen go above and beyond both in appearance and usability are possible.
Further, you can change the existing layout of the kitchen in an upscale remodel. An upscale kitchen remodels usually costs upwards of $60,000. 
An upscale remodel usually includes:
Custom cabinetry with built-in sliding shelves and custom interior accessories 

Natural stone countertops with ceramic or glass tile backsplash 

New and advanced appliances

Undermount sink with designer faucet and a water filtration system 

General and task lighting, such as undercabinet lights and recessed lights

Installation of floor tiles or upscale flooring that resembles hardwood