Although remodeling your kitchen is a major investment for most people, it is also an investment that brings a good return. Primarily because may even increase the resale value of your home.
As a result, there are a few pointers to keep in mind before beginning your remodeling project, as well as a few small kitchen remodel mistakes to avoid. Avoiding these kitchen remodeling mistakes will ensure that your time, effort, and resources are well spent.
Where Do You Begin?
To begin with, make sure your kitchen is set up properly. Take some time to think about your family's needs and your way of life. 
You should consider how much you cook, which appliances you'd like to spend more time (and funds) on, and how much storage space you need. Perhaps the kitchen is your family's primary meeting place for social activities and entertaining, and it also acts as a study zone after school. In this situation, pay close attention to your seating and counter space. 
However, if a shortage of space has been an issue for you, look for ways to expand and avoid kitchen layout mistakes. You should also consider these factors when choosing new features and planning your kitchen's overall design.
Once you've figured out the answers to these questions, you'll be ready to start your small kitchen remodel. Continue reading to learn how to keep your kitchen functional while avoiding these typical small kitchen remodel mistakes.
Doing Everything Alone
Even if you're a committed, qualified DIY-er, the quality of your small kitchen remodel is almost entirely dependent on the professionals you employ. Most importantly, you should seek advice from a kitchen remodeling company near you even before beginning your project. 
A professional will help you fine-tune your small kitchen remodel plan, including tips and guidance, and maybe even suggest some designs you hadn't contemplated before. This way, you can stay clear of some common small kitchen remodel mistakes. 
Don't Skip Storage Details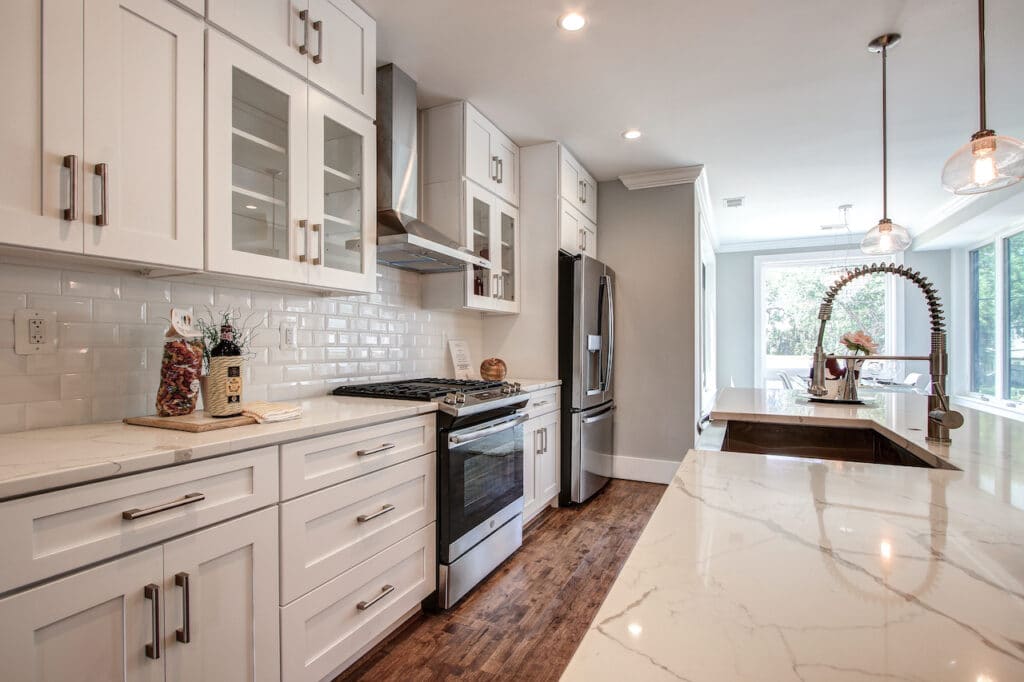 You'll need enough space in your kitchen to function, just as you do in your office. Extra storage has never been an issue, but skimping on valuable storage space has always been a concern with small kitchens.
While you're trying to maximize your kitchen storage, don't forget the almost minor additions and storage features, such as drawer dividers and pantry pullouts, and Lazy Susans. Apart from these, you can also incorporate different storage options like open shelving, cabinets, shelves, and more. 
You should also take into account the goal of your remodel for small kitchen storage solutions. If you select glass door cabinets for a sleek look, keep the interior modern and uncomplicated as well.
These specifics will not only improve the storage efficiency of your kitchen but will also save you money. Besides, they are much more expensive to add on later during the kitchen remodel. 
Don't Overlook The Workflow
An easy way to avoid small kitchen remodel mistakes is to remember the busiest areas of your kitchen when remodeling: the sink, stove, and refrigerator. Most importantly, determine that these areas and appliances are in a convenient position that is accessible to one another. It is also referred to as the kitchen "work triangle" by many designers.
Speaking of workflow, you want your new kitchen to look perfect and function efficiently. You may even need sufficient kitchen countertop space to ensure you do not run out of space.
Not Enough Counter Space
Don't skimp on counter space as it's one of the most critical aspects of your kitchen. You can use decorative corbels or a shelving system to maximize your counter workspace.
In a small kitchen, a peninsula is always preferable to an island. To achieve the best remodel, keep your layout in mind at all times. Don't let a small room stress you; there are plenty of choices for all dimensions and sizes and you can make the best of your space with the right plan.
Going Off Budget
Making a budget is an essential part of the kitchen remodeling process. Homeowners usually spend 10% to 15% of their home's market value on their kitchen. Using this method is an easy way to avoid overspending as you are basing your budget on the value of your house. 
After you've established a budget (and vowed to stick to it), the next step is to allocate funds wisely. To put it another way, you don't want to spend thousands on appliances just to run out of money for the backsplash. 
You should also keep in mind that kitchen cabinets account for roughly one-third of the average remodel budget, making it the most expensive aspect of a kitchen remodel.
Choosing Appliance Late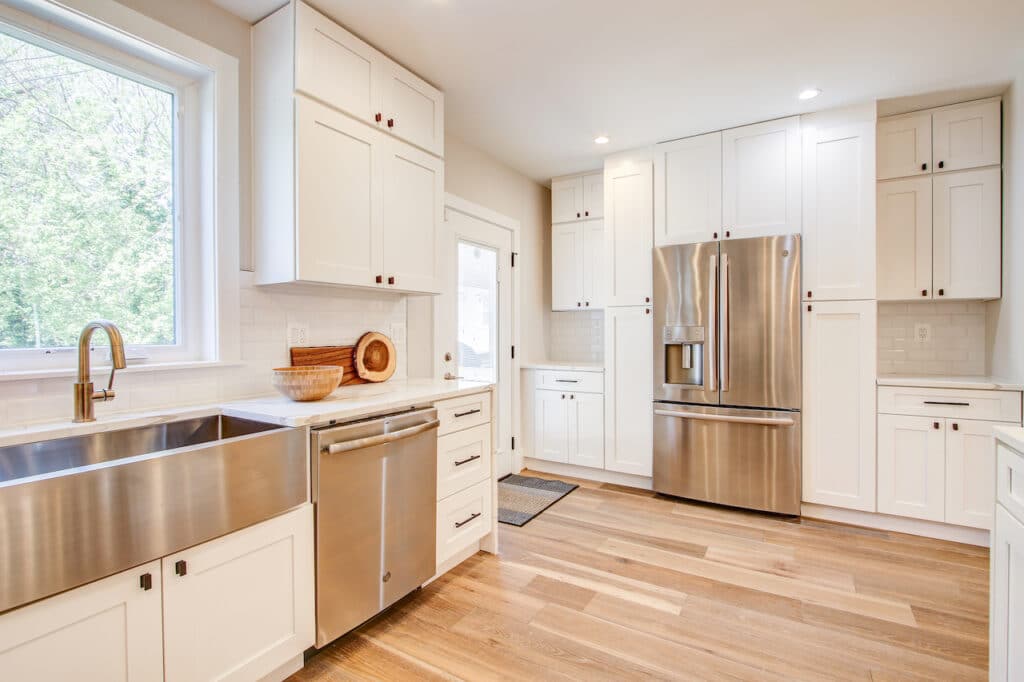 If you're doing a full kitchen remodel, don't delay choosing the right kitchen appliances. Choosing kitchen cabinets and worktops to match appliances like your microwave and refrigerator would be much simpler than the other way around.
Missing Your Backsplash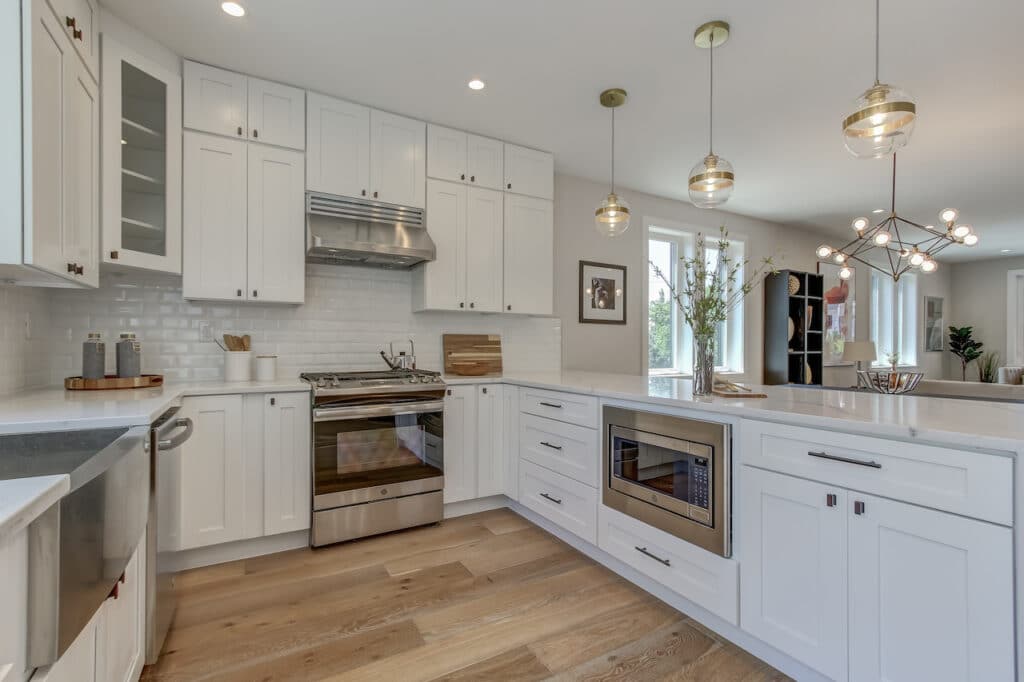 Why not make a statement with one of your kitchen's key elements? Use various shades of the same hue to play with color, which will give your kitchen an elegant and put-together look.
A kitchen backsplash is more or less the focal point in any kitchen. Not just that, it also keeps your walls safe from oil splashes. Choose the right kitchen backsplash early on and enhance both the design and functionality of your small kitchen.
Underutilizing The Space
Underutilizing your space is one of the most common small kitchen remodel mistakes you can make. Toe-kick storage under cabinet doors, for example, is a clever way to store stuff like cookware, tablecloths, or a spare step stool that you don't use daily. 
You can also take advantage of your kitchen's floor plan to find extra storage as it would help keep your countertops clean and clutter-free.
Skimping On Lighting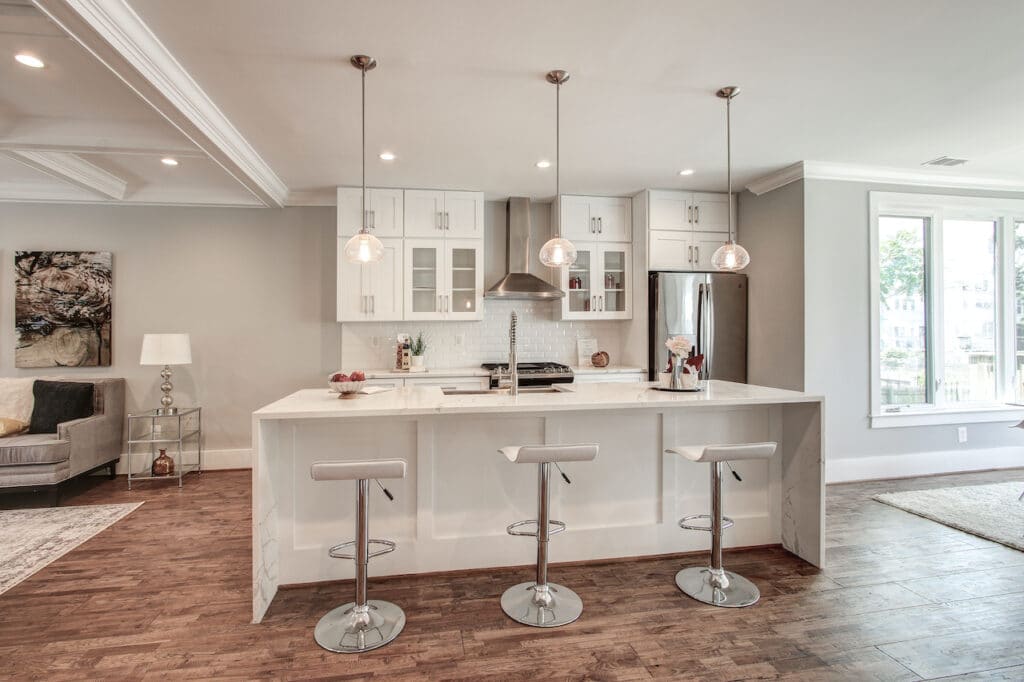 Lighting flaws in the kitchen can have a huge effect on the overall look of the room. Having too much recessed lighting, in particular, is a typical blunder. 
Due to the brightness, many people believe that stuffing a small kitchen with recessed lighting is a smart idea. A lighting system, on the other hand, should be conceptual, with recessed lighting used where necessary and accent lighting such as pendants or sconces used as appropriate. 
Your small kitchen may feel intense and over-saturated without a lighting plan, and the recessed cans will appear to detract from the room's beauty. Similarly, don't forget to add dimmers as a part of your kitchen lighting ideas.