Remodeling your kitchen is one of the most rewarding tasks that you undertake in a home remodel. Since the kitchen is filled with endless design decisions, you will find each step to be daunting if you're unprepared and end up making some avoidable kitchen remodeling mistakes.
To save time, money, stress, and get the most out of your dream kitchen, try to avoid these kitchen remodeling mistakes. We'll be talking about these costly mistakes in four different parts:
Function and Space Planning. 
Logistics and Choosing Appliances. 
Storage and Customization. 
Style, Material, and Finishes.

 
Function and Space Planning
Space planning is one of the most common kitchen remodeling mistakes that homeowners make. One way to curb this issue is by measuring the layout in the floor plan accurately. 
Layout Measurements 
First, measure the available kitchen layout, and then you can plan where everything goes. Find your optimum work triangle; sink – cooktop – refrigerator, and then select your kitchen appliances. 
You don't want any clearance issues, meaning you don't want to deal with issues related to doorways and walkways. Doors at least need to be 32″ (80cm) wide, and swinging doors shouldn't interfere with cabinets, appliances, or other doors or walkways. Hang doors, so they swing out rather than in, especially in a small kitchen for correct clearance. 
Passageways through the kitchen (the one without doors) should be a minimum of 36″ wide (90cm) or larger. If you're standing in front of your refrigerator or stove, walkways should at least be 42″ (106cm) wide for one cook or 48″ (120cm) for multiple cooks. 
Poor Work Triangle
To design a truly functional kitchen, you have to take the kitchen work triangle into consideration. The work triangle may be new to those embarking on a kitchen remodel for the first time, so here are the details. 
The idea is that the work triangle improves the kitchen's functionality by minimizing the walking distance between the sink, cooktop, and refrigerator. The sum of these three distances should be no more than 27 feet for comfort and safety. 
Each stretch of the triangle should also measure between 4 and 9 feet, no matter the size. If two or more people cook at the same time, plan triangles for each cook. Core design workflow can be very impractical to a functional kitchen when you don't plan these three features well. 
This is also the step where most people make a mistake and need to rethink their kitchen islands. The right placement, size and material plays a huge role in your kitchen's functionality.
Incorrect Island Placement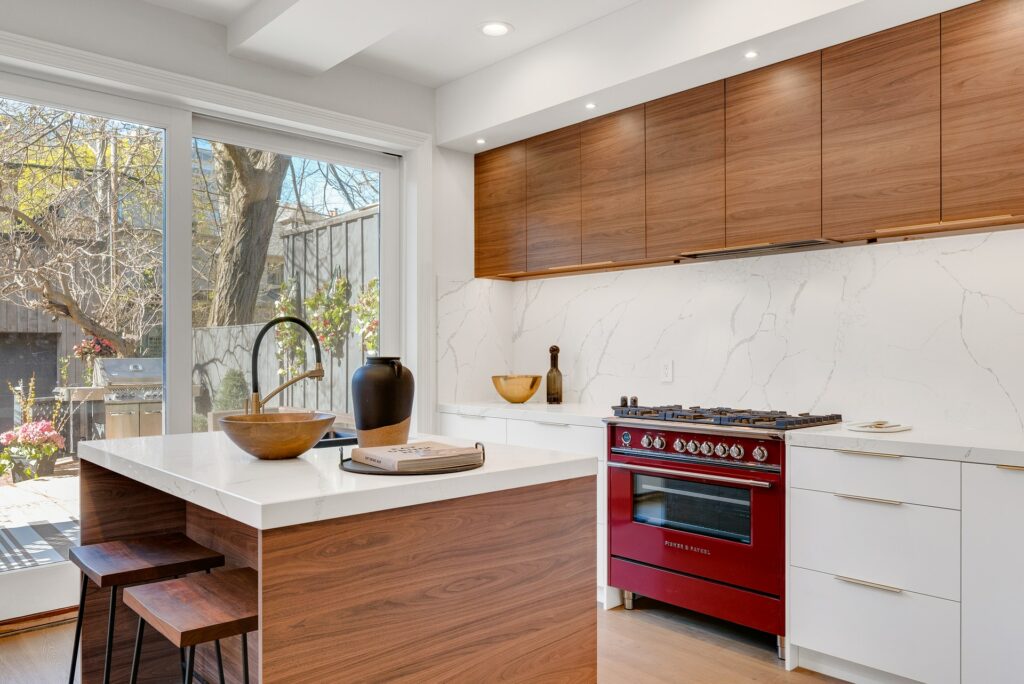 Kitchen islands have long been valued in kitchen remodeling projects, but inappropriate placement can be problematic.
When an island interrupts optimal workflow between critical places, such as the refrigerator, sink, oven, and stovetop, one of the most serious concerns arises. An island that is too close to other kitchen elements or one that is positioned in an area that is merely too tiny can create problems.
An island should preferably contain at least 3.5 feet of open area on all ends. You should accurately measure the dimensions of your perfect kitchen island in your remodeling project.
Logistics and Choosing Appliances
Another common kitchen remodeling mistake is not prioritizing your appliances. Why do you need to choose appliances first? 
Choosing appliances first and locating them within the kitchen's confines will allow you to custom fit all of your cabinetry around it. Knowing the exact measurements of each unit will help you achieve a seamless custom look. One that is well thought out and maximizes every square inch of space. 
Many homeowners keep this task for last and then realize they've wasted a lot of valuable space and time. The appliances your kitchen needs are – refrigerator, cooktop, microwave, hood, sink, and dishwasher.
Forgetting Power Outlets
A sufficient number of outlets is required in the kitchen for anything from coffeemakers to mixers. You don't want to be forced to keep all of your tiny appliances in one area because it's the only location with an outlet. 
This is a simple feature to implement at the beginning of a project, but it becomes practically hard midway through. There are many clever techniques to disguise or cover outlets on the wall if you don't really like their appearance.
Poor Ventilation
An outdoor ventilation system is crucial in any workhouse type of kitchen. The last thing you want to do is plan your beautiful kitchen, and then every time you cook, have some weird smell linger in the air.
Especially for people who love to cook with steak and seafood, ventilation is essential. Also, excess moisture can lead to mold, so make sure to install a hood with an extractor fan with an exhaust rate of 100 cubic feet of air per minute. Correcting this kitchen remodeling mistake will help you avoid any stale odors hanging in the air. 
Plan Ahead
Pots and pans too far away? Is your trashcan not accessible from the sink? Too tiny prep sink that you can barely wash a large pan? 
The solution for all of this is to plan when you need to hire a kitchen remodeling company. So you certainly will not encounter some mistakes while you remodel your kitchen. Most of the time, this is due to a lack of communication with your builder. 
To ensure everything runs smoothly, agree to weekly schedule your work details before construction starts. It is also essential to speak to your builder or contractor regularly, if not daily. This way, you'll be able to catch any problems before they arise. 
Detailed drawings are a big help. You might want to hire an architect or interior designer to help you draft up these plans. 
Storage and Customization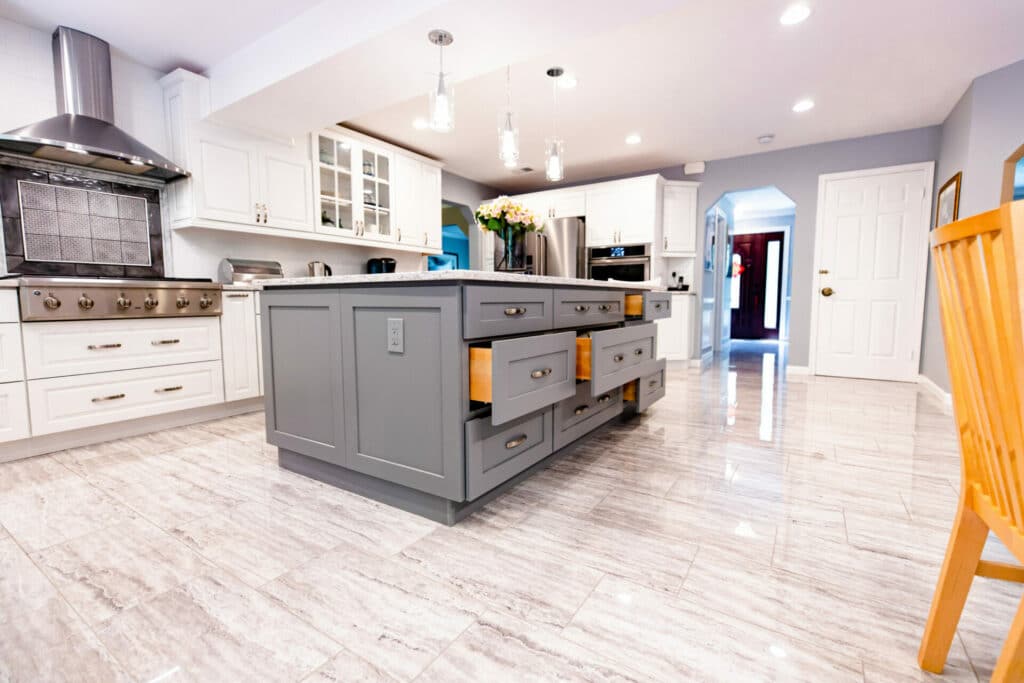 The kitchen remodeling mistake you most likely want to avoid is underestimating how much storage you need. Everyone wants more storage in the kitchen. 
Whether or not it's cabinet space, drawer space, or pantry space. It's best to take an inventory of everything you'll want to store in your new kitchen: from pots, pans, chopping boards to coffee machines, tea accessories, even a kitchen aid. Your kitchen cabinets play an important role during the remodeling process. If you want, you can revamp or reface your kitchen cabinetry to completely change the look of your kitchen.
Smart Storage Solutions
Make sure to allocate a place for everything before you start planning your space. For small kitchens, take advantage of vertical wall space with wall-mounted headboards. Also, install long rods and bars to increase storage capacity. 
Choosing the cabinets, those fancy finishes, and hardware for the remodel is critical, but don't forget what goes inside your cabinets and drawers. Dividers, pull-out trays, corner drawers, or lazy susan are essential for a fully functional kitchen. Installing just a few smart storage solutions will help you keep your kitchen organized and maximize every nook and cranny. 
Trash Bins
Never forget to plan a place for your trash bins. You can place them near the sink or refrigerator. 
Moreover, you can design a built-in trash bin that you can organize inside your kitchen cabinet. It will keep the smelly trash inside the cabinet and take up way less floor space than a freestanding trash bin. 
Style, Material, and Finishes
Hardware
Monotonous design from faucets and hardware makes your dynamic kitchen look like it's one-note. Trust us, it will get really old, really fast. It doesn't have to be super loud either, but remember that mixing metals is fine, and in short, trendy. 
The Right Kitchen Countertop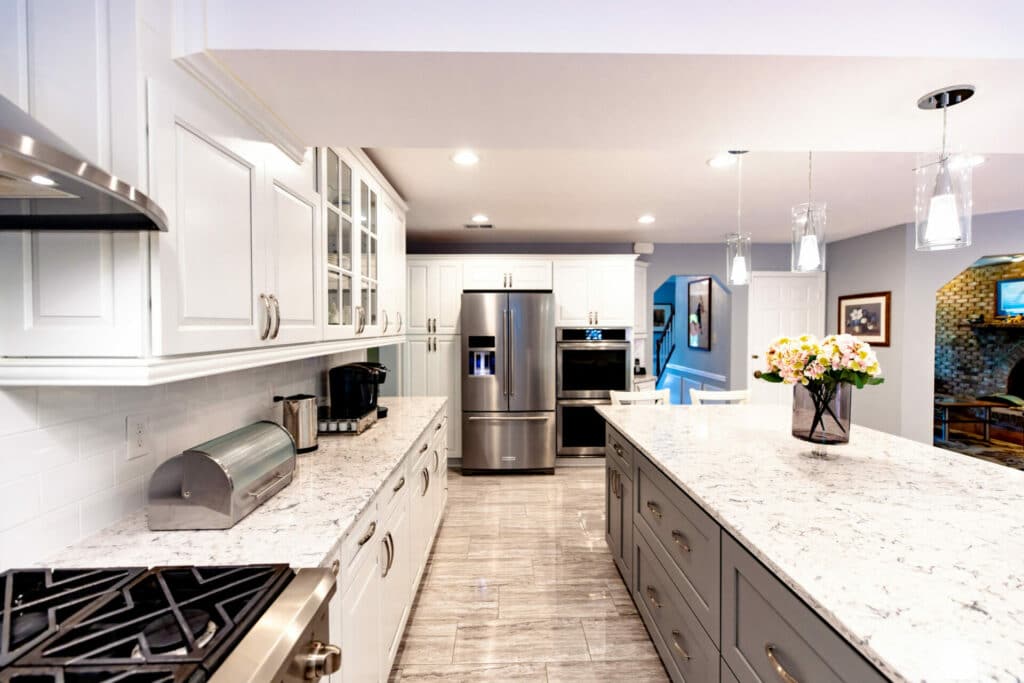 You have to choose the best kitchen countertop for your functional needs. Think about your lifestyle and the people who live in your home before you select a countertop. It's sad because some styles look incredible in a showroom or on Pinterest. But in reality, they aren't compatible. 
Do you have kids? Do you need a workhorse type of culinary-style kitchen? Love marble but afraid it will stain? Choose a budget-friendly and durable slab that mimics the look of your favorite marble veining. You can even try quartz for a modern look with uniform color. 
Backsplash
The quality of your kitchen backsplash matters too. It protects the walls from wet spills, it's easier to clean up messes, and adds color, pattern, and personalized design to your kitchen. Also, be sure to pick a matching color for grout lines. 
Ensure that you pick the right kitchen backsplash material before you begin. For instance, ceramic tiles are often considered to be a good choice for kitchen backsplash material due to their sturdiness as well as their design value.
Paint
Picking poor quality paint is also a huge no-no. You want to prime the walls before painting, or else the heat and humidity in the kitchen will peel that top layer right off. 
Furthermore, ensure the product you choose is resilient to the daily wear and tear that kitchens endure. Use paint that is resistant to grease and will withstand regular washing and wiping.