There are a ton of options available in the market for kitchen countertops. Each material has its positive and negative aspects. For example, some are very strong, while others are more prone to stains, and some materials cost a lot more than others. 
On the other hand, the kitchen countertop is also the most demanding surface in your home. It has to bear a good amount of chopping, spills, stains, and heat. An ideal countertop should be able to take all these along with looking aesthetically appealing. 
Granite
For quite some time, granite was the favorite trend as a countertop material when there were no cost issues to consider. Granite defines elegance in a kitchen, and even the modest kitchens seem like a luxury space. 
Generally, granite has been an expensive material, but its cost came down as supplies have increased, and engineered stones have become more common. 
Pros
Almost impossible to burn

Very strong and durable

Adds great value to a home

Nearly maintenance-free when sealed annually.

Lots of customization options available
Cons
Costly countertop material

Slabs are imperfect

Can crack if improperly installed

Requires yearly sealing
Marble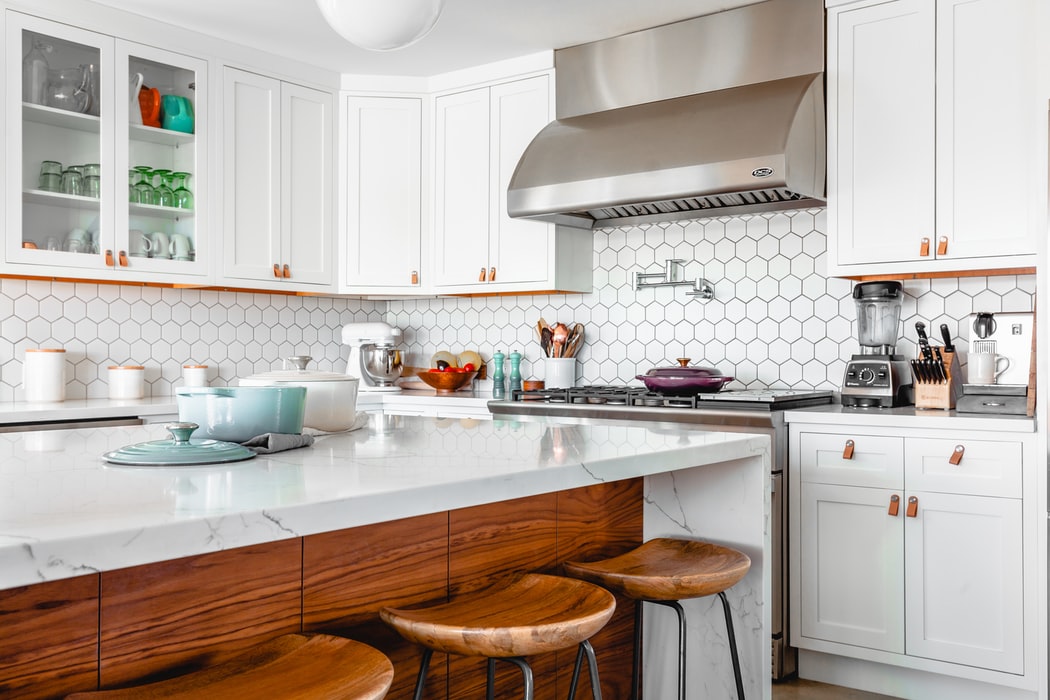 Another natural stone that is commonly used as kitchen countertops is marble. Since no two sheets of marble are the same, each marble countertop is unique. However, due to its extremely high price tag, marble isn't often seen in most kitchens.
Contrarily, its luxurious look is limited to use on an island or a section of countertop reserved as a baking center. Although highly prized, marble adds to a house's real estate value and is a highly temperamental stone compared to granite. 
Pros
Completely heat resistant and waterproof

Adds massive real estate and aesthetic value

Exceptionally beautiful with unique veining design
Cons
High price tag

DIY installation is next to impossible

You can scratch it if you do not care for it.
Soapstone
Soapstone is another natural stone that is usually dark gray with a smooth and silky feel. It has seen a recent surge as an alternative to granite. Furthermore, soapstone is common in historic homes, but you can also find it in modern homes as both a countertop and sink material. Over time, soapstone takes an antique design structure that can be very attractive in specific kitchen styles. 
In contrast, the architectural soapstones used as countertops are quite hard and resistant to stain. Although it is likely to be scratched over time, this contributes to the stone's antique feel.
Pros
Deep and rich in color

Stain-resistant to a large extent

Fairly resistant to heat 

You can repair any damage easily

Offers a unique and antique look to a kitchen 
Cons
Usually darkens over time.

You must treat it with mineral oil regularly

Surface can scratch
Quartz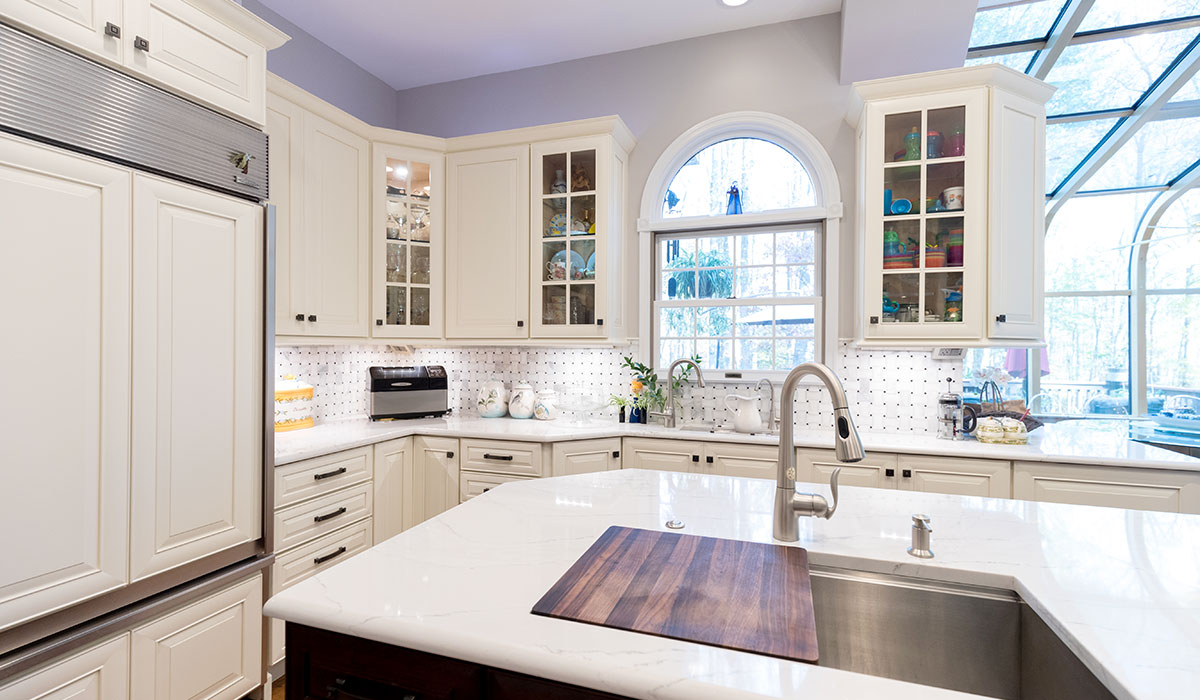 Quartz is an engineered stone product containing 93 percent quartz particles and other minerals, shaped into slabs with resins. Furthermore, these are not solid quartz slabs produced by quarrying.
Quartz is a better-performing alternative to marble and granite. It is also is available in a wide range of colors as compared to granite. Besides, it has a non-porous surface that can resist both scratches and stains. Similarly, some types of quartz slabs are convincing copies of natural marble with veining. 
Pros
Easy to maintain and no sealing required.

Slabs are uniform and perfect.

Custom fabrication in any size and shape is possible.

Stain and scratch-resistant.
Cons
Generally bulky in comparison to granite and marble.

It is not heat-resistant; you should use a trivet for hot pans and pots.
Solid Surface Material
Solid-surface material is an engineered kitchen countertop material with a mixture of acrylic particles and resins, pressed into sheets and other shapes. On that note, these kitchen countertops and sinks have been around for more than 50 years, and at the same time, they are an older alternative to natural stones. 
Earlier, solid surface materials were a premium and luxury countertop material. However, now they are considered mid-tier; still, solid-surface materials are among the best countertop options for a mid-range kitchen. Further, it can also be a good countertop material in a high-end kitchen with lots of space. 
Pros
Stain-resistant and no visible seams

You can easily repair damages

Available in many colors and patterns

Integrated sink units are available
Cons
Cannot sustain heat and is vulnerable to hot pans

Fabrication requires professional attention.
Ceramic and Porcelain Tile
Ceramic tile is durable and easy to clean. However, it is also considerably less expensive than natural stone countertops. Recent innovations in porcelain tiles offer many designs than ever before, including tiles that look like wood, marble, or even leather. 
Porcelain and ceramic tiles offer much more customization options than any other countertop material available. However, custom tiles can be expensive and may crack under impact.
Pros
Easy to clean and maintain

Very affordable

Utterly immune to heat damage from hot pans and cookware

A wide range of color and style options are available.
Cons
Does not increase real estate value or carry the same prestige as marble or granite

Staining is an issue in grout lines.
Laminate Countertops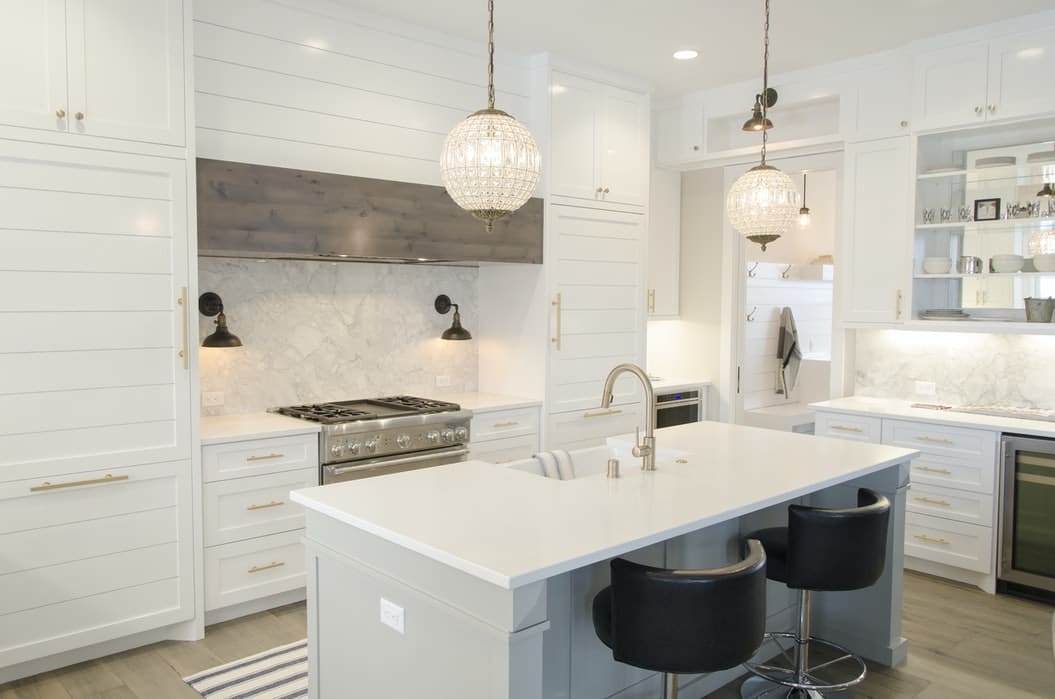 Laminate countertops are plastic-coated synthetics with a smooth surface. They are made by bonding the laminate sheet to a particleboard core. Furthermore, laminate countertops can be purchases as pre-formed segments or custom fabricated.
Although laminate countertops are ordinary, they have seen a surge in popularity due to thousands of colors, patterns, and styles. Moreover, laminates are wildly popular in retro designs. 
Pros
Easy to maintain 

Lots of colors and design options available 

DIY installation is easy

Inexpensive countertop option
Cons
Seams are always visible.

It is sometimes viewed as too cheap by home buyers.

Vulnerable to scratching and chipping

Damages are almost impossible to repair
Kitchen countertops play a demanding role as the site of all food preparation. So it is expected to be durable, beautiful, and economical. With so many options available, it's no wonder choosing the best countertop material is difficult. 
Finally, the option you choose for your kitchen countertop should be what's best for you and your budget, whether classic granite or the more economical laminate.