Is the farmhouse kitchen not on your 2020 remodeling agenda? Some homeowners find it outdated and boring. Is the farmhouse kitchen canceled once and for all? We think not! 
Similarly, a farmhouse kitchen design with new and modern updates can lighten up your space, unlike any other design. It's often mistaken that only traditional-style homes can accommodate a country kitchen. But that's just a popular myth.
In fact, with a few tweaks and our farmhouse kitchen ideas, you can turn your room to feel younger, fresher, and a little more transitional. Furthermore, the farmhouse kitchen takes inspiration from the simple pleasures of life. 
It draws much of its beauty from nature and nearby surroundings. If done correctly, a farmhouse kitchen can be a gorgeous mash-up of rustic furniture, modern cabinets, patterned tiles, or vice versa. 
On that note, if you're ready to take the plunge into remodeling your kitchen space, check out our dreamy and trendy list of farmhouse kitchen ideas. The ideas we've covered are sure to inspire you to redesign your kitchen sanctuary. 
New Farmhouse Kitchen Ideas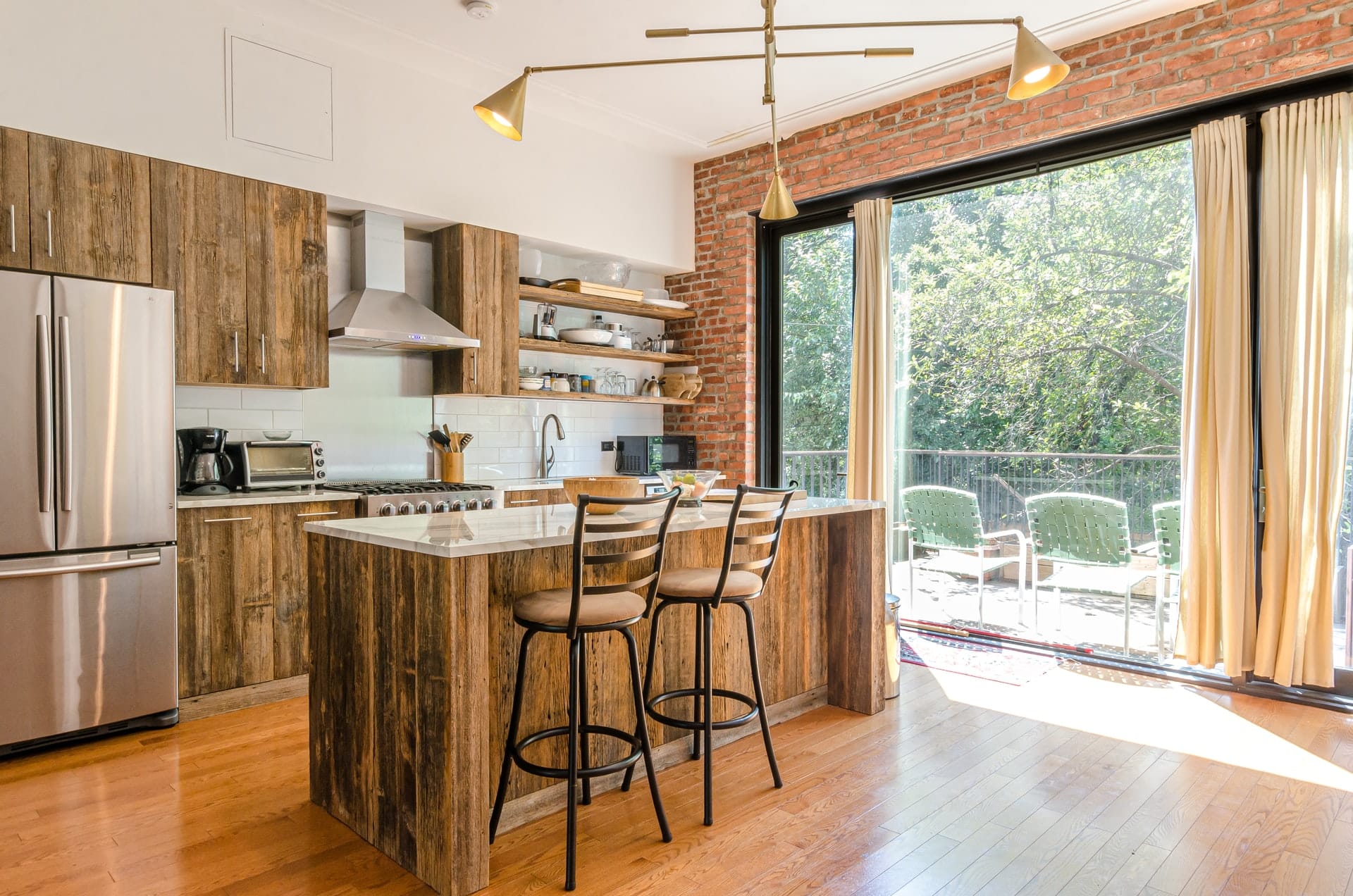 2020 updated farmhouse kitchen ideas blend the farmhouse elements with Scandinavian, a little contemporary, and even minimalist styles in its newer, sassy version. It is done in a way that brings all of them together.
The new farmhouse design usually opens up the architectural shell. It allows for larger spaces with bigger windows and irregular ceiling lines to have more natural and unpainted wood expressions. 
You can give your farmhouse kitchen remodeling an urban twist by using reclaimed wood, copper pipework, upcycled materials, and parquet flooring. In fact, less intricate details and cleaner finishes are encouraged.
Similarly, it has a much broader palette than the original black and white iteration. The key to getting your new farmhouse kitchen is to complete the space with a palette that's got a soft, neutral statement. 
A farmhouse kitchen and white paint are quite the iconic duo. You can apply a fresh coat of white paint to that exposed brick wall to brighten up the kitchen space while maintaining the vintage farmhouse feel. 
Furnishing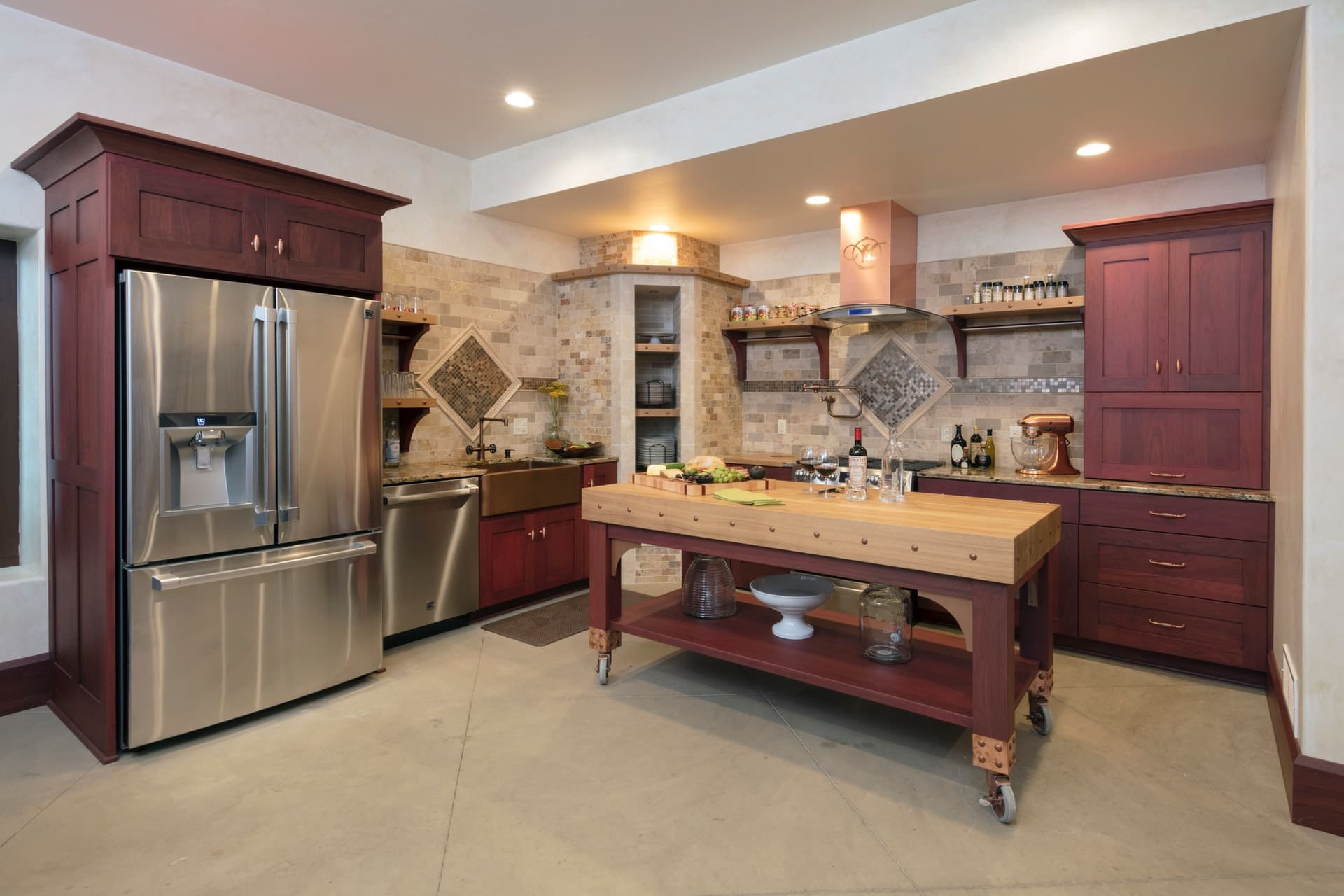 When it comes to furnishing remodeling, you can mix unique vintage pieces from different eras or periods. You can look at modern, contemporary, certainly international styles, and some vintage pieces.
You can now have a mix of the classic farmhouse like the Windsor back chair or bench, plain wooden pieces like the large trestle table for dining, and more. Similarly, you can also add new interesting elements like industrial style chairs or even an industrial style table.
When it comes to flooring, think natural wood flooring with simple or no molding. You can even go for gray tones or terra-cotta tiles for that country feel.
Second, have clean and super basic window treatments. Think Roman shades, roller shades with a valance on top that is undemanding to the eye. 
Third, a makeshift wooden or industrial kitchen island can provide that extra workspace in a tight spot. Also, it helps to keep things casual in your new farmhouse kitchen.
Don't forget the shiplap. You can never go wrong with shiplap over the ceiling in continuation to the upper wall. It adds a dash of interesting texture and rustic charm. 
Also, the backsplash can be a mix of brick or subway tiles in white. You can choose a different pattern to make it a bit fancier. They're pretty inexpensive, too. So if you're on a budget, these tiles are a life savior.
Fixtures and Plumbing
You can have your plumbing, fixtures, and electrical to be modern and contemporary. Or you can mix metals or even do classic, vintage pieces that have been updated to feel modern. You can have the plumbing with modern technology to support it. 
Electricals fixtures have expanded to mixed metals, Italian, modern lines, and even updated versions of the original agrarian detailing. This way, you've got a wide range to explore. 
Stainless steel and apron sinks are the popular choices in farmhouse kitchens. While a stainless sink evokes a modern, contemporary vibe, an apron sink has an industrial charm. Even adding wrought-open hardware to hang copper pans and pots will guarantee a farmhouse vibe. 
Along with that, a long pendant light is a beautiful add-on to accentuate those high ceilings. Any modern lights paired with a farmhouse sink or classic black and white flooring tiles can bring the whole space into cohesion. 
Add Cabinets and Shelving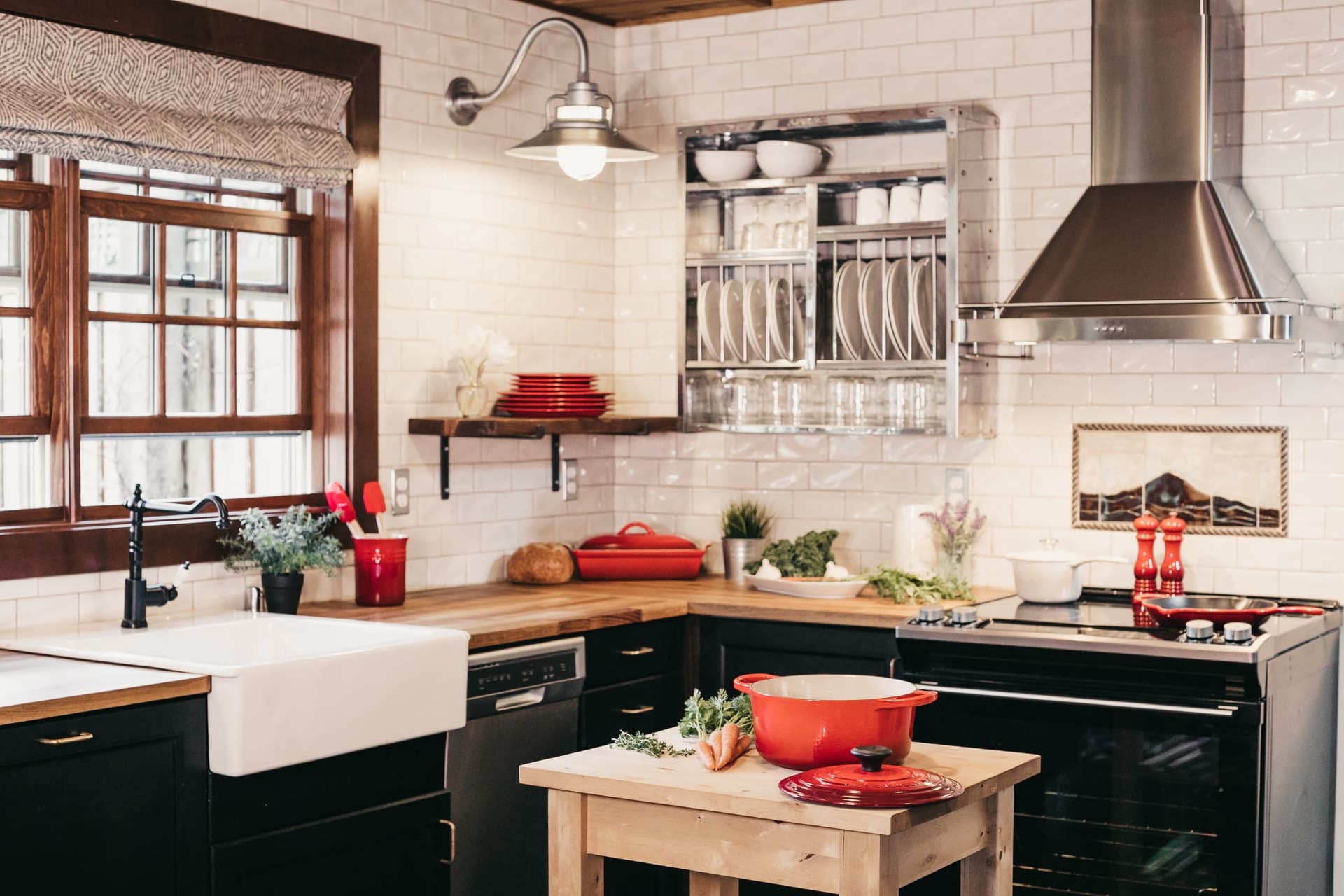 Sleek shaker cabinets with cleaner lines done in fresh colors and updated neutrals is a huge trend. They're timeless and will be the main element of any farmhouse kitchen ideas.
While white cabinets are the leading choice of color, homeowners opt for light gray or tan, too. In any farmhouse kitchen, the color of the cabinets will dominate. So you should also make sure you choose your color palette well in advance.
Similarly, if you're refinishing your cabinets, update the hardware with mixed metal handles to give your kitchen a more 60s inspired luxe feel. E.g., the copper and gold undertone stands out and goes well with any cabinet color. 
On the contrary, exposed shelves or floating shelves are also smart to display your antiques, and clean market finds. They're low maintenance and very comfortable to work with. 
For an old-world charm, try adding gold bars to your shelves. It'll prevent your delicate and prestigious antiques and glassware from falling. You can even opt for built-in shelves for minimal appeal. They're an excellent replacement for cabinets and a better way to conserve storage. 
Farmhouse Decor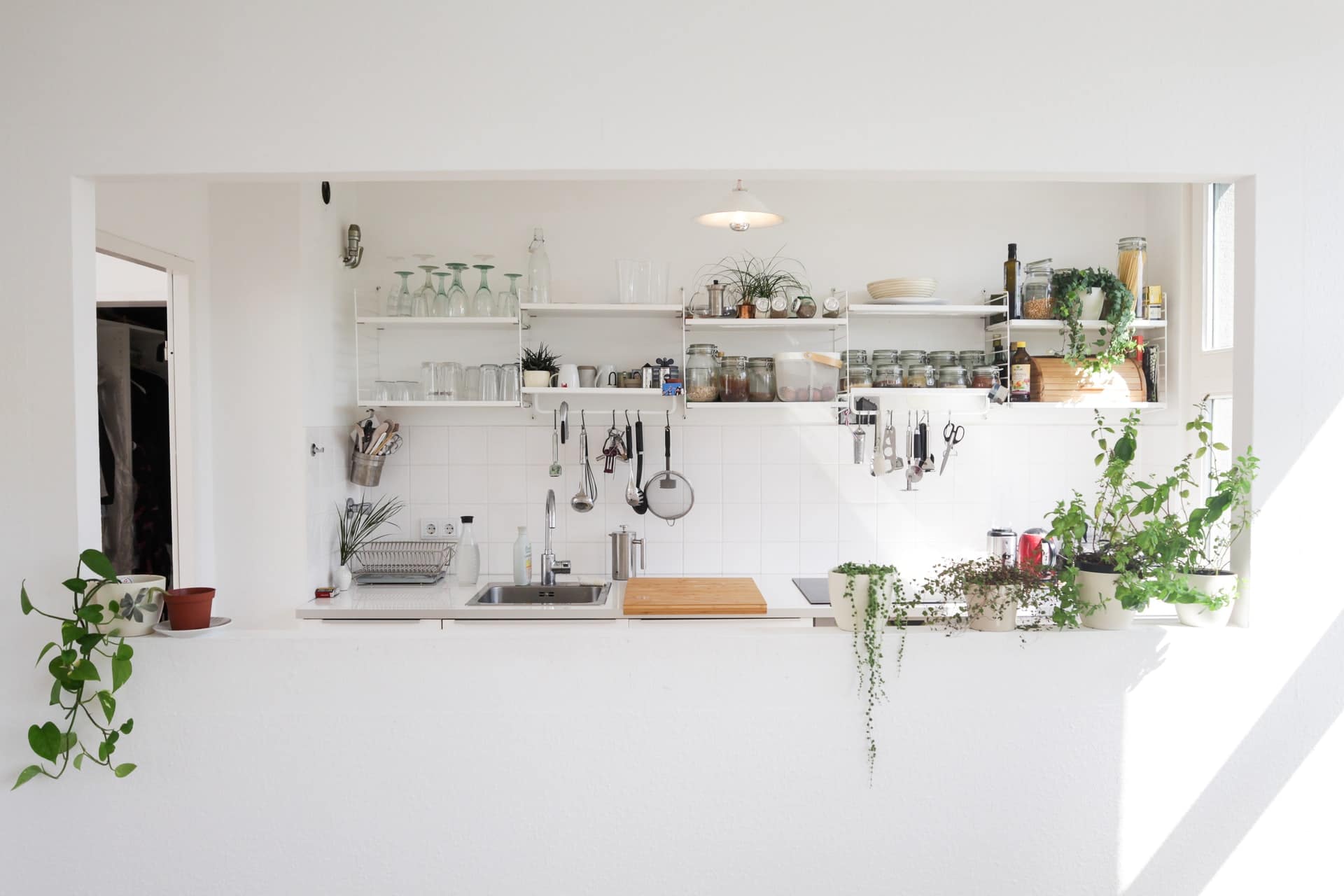 Minimize your decor, even spare some, to allow a lot of negative space. This will make your kitchen more open and airy. 
You can even incorporate a broad range of updated elements like modern art, sculptures, found objects, and pops of color that feel relatively modern. Opt for an area rug to introduce a bit more country and formality. 
Wicker and woven baskets, mason jars, and wire storage bins are a great functional choice in your pantry. Have a different theme with each section and label all your products to keep things organized.
Among the more popular farmhouse kitchen ideas is to install a barn-style pantry door to add that transitional element and added attention to detail.