No matter how much you deny, but you do spend a considerable amount of time in your bathroom. Most people tend to overlook doing their bathroom well, but psychologically speaking, your bathroom can have a considerable impact on your mental state. All of us want a lavish bathroom, but not everyone has a huge space for it. This is where you go ahead with the small bathroom remodel ideas to make the most of your space. 
Bathroom remodels can also cost a bomb. Considering how expensive remodeling can be, you're always on the lookout to make the best out of what's available to you. Nonetheless, you can spruce up your small bathrooms according to your liking. With just a few design and décor elements, you can transform your small bathroom into an aesthetically pleasing space while making it more functional. 
Check out a few cost-effective small bathroom remodel ideas to glam up your small bathroom without too much money, effort, and energy. 
1. Monochrome Tone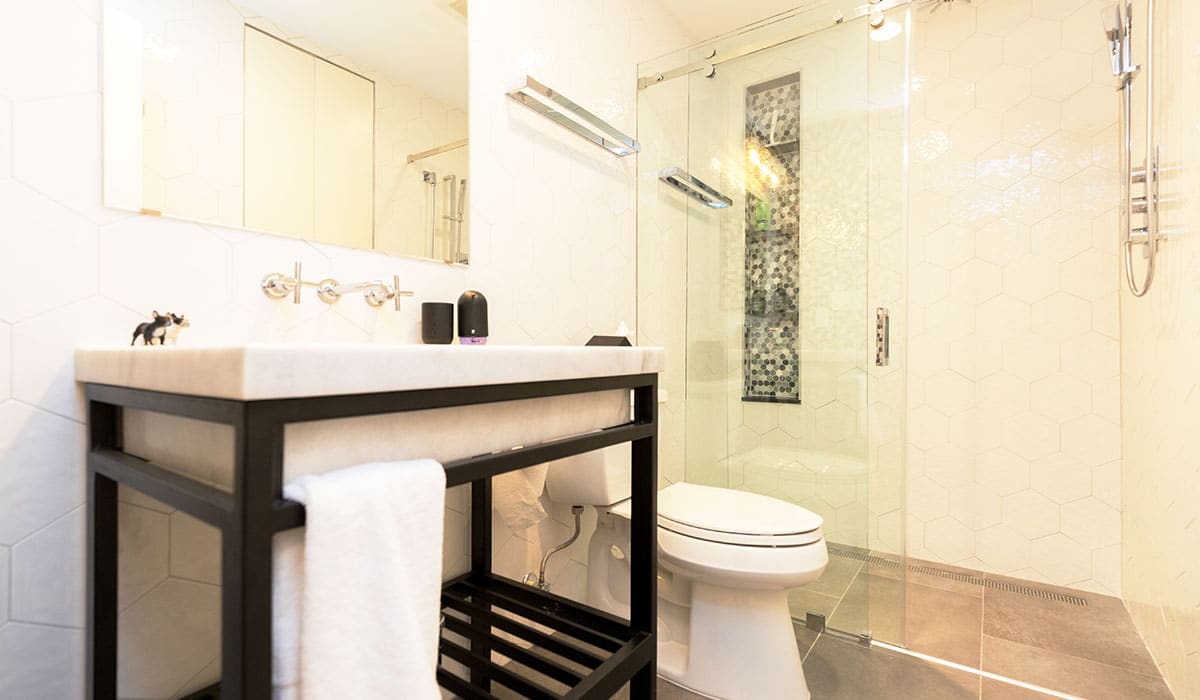 Never underestimate the magic that monochrome tones can create in an enclosed space. The idea is to pick one color tone for the entire bathroom.
Now, the real deal comes when you know how to play with slightly different shades of the same tone. Learn how to execute it in your wall paint, flooring, ceiling, basins, pipes, mirrors, door, wallpaper, and even the WBC. 
You can pick one color and create a tonal look, which is a visual delight. This trending design element, along with complementing décor pieces will bind the whole look together. Also, monochrome is the newest definition of sophistication, chic, and classy décor. 
2. Add Some Plants
If you haven't already entered the green party for your interiors, it's time you do it. Gone are the days where plants were only limited to gardens and porches. Greens have come inside the house and are giving life to your interiors like a dream. 
You can choose from real plants or artificial green according to your vibe or the efforts you will take to maintain them. Shades of green add an effervescent touch to the entire bathroom and will make it livelier than usual. 
It is essential to remove the stale air from your bathroom to avoid humidity or unwanted bacteria. You can go with a huge potted plant or just stick to a little one by the mirror. Either of them will work the same and are also readily available.
Not just for the bathrooms, you can place indoor plants at any corner of the house to make it more refreshing. You'll notice that biophilic design is an important aspect of modern small bathroom remodel ideas as well.
3. Metallic Shades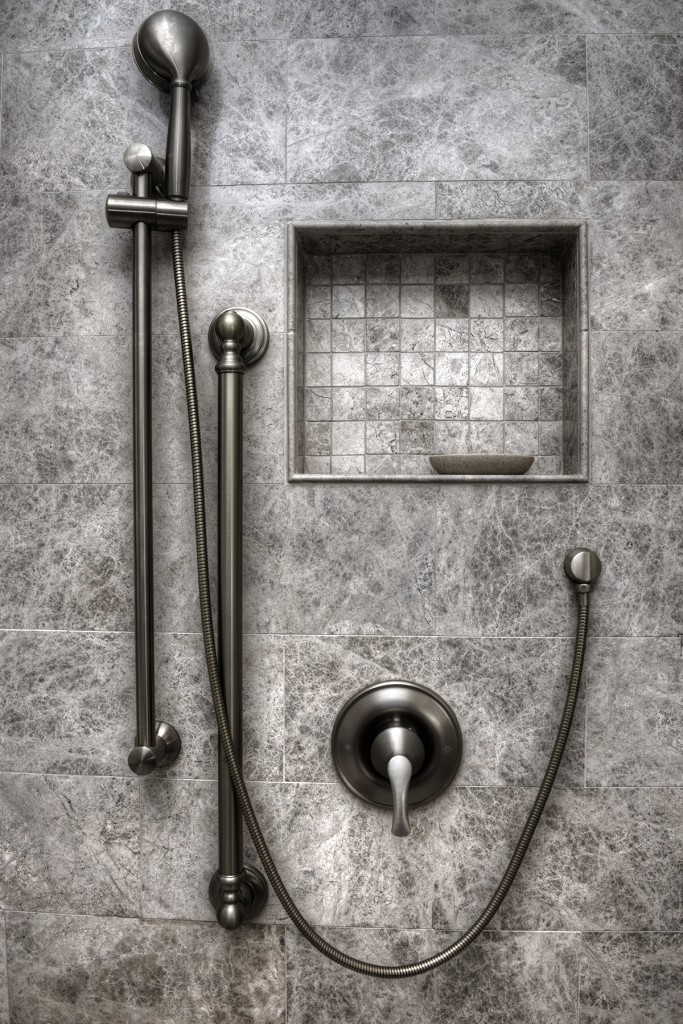 Metallic décor pieces have picked up in the market off-lately. They can make your small bathroom look fancier and more polished in no time. If you are the kind of a person who likes adding a little extra glam element in your décor, metallic décor pieces are your best friends. 
You can add absolutely anything metallic with a shade of silver, copper, and gold or rose gold as per the theme, and it will blend beautifully with your entire aesthetic and design. 
The best part is you can decide on metallic addition either on a small soap dish or a laundry basket, a dustbin, a cloth hanger, or even a plant pot. 
4. Add a Shelf/Organizer/Stand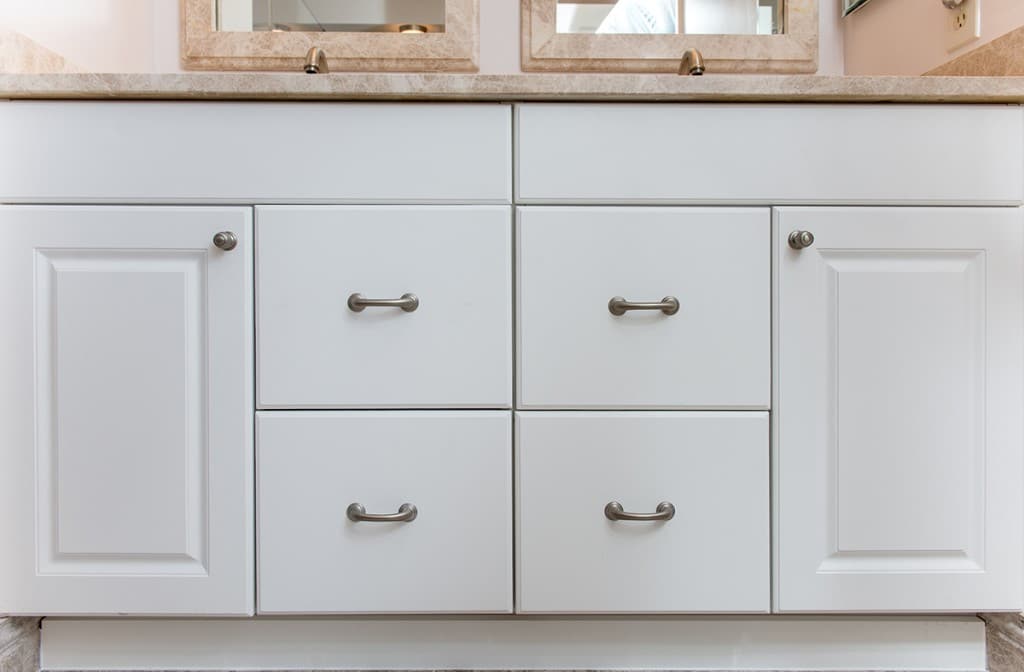 If your small bathroom does not have a lot of space, you might want to stay clear of the clutter. We are not asking you to throw your toiletries out, but find a way to store them in the bathroom without making it look shabby and cluttered. 
You can also make the most of your space by installing a shelf, an organizer, or even a stand-in place below your sink, under the mirror, or even beside your door. Optimal utilization of space while ensuring all your bathroom essentials are stored perfectly will solve half your problem. 
5. Rev Up the Flooring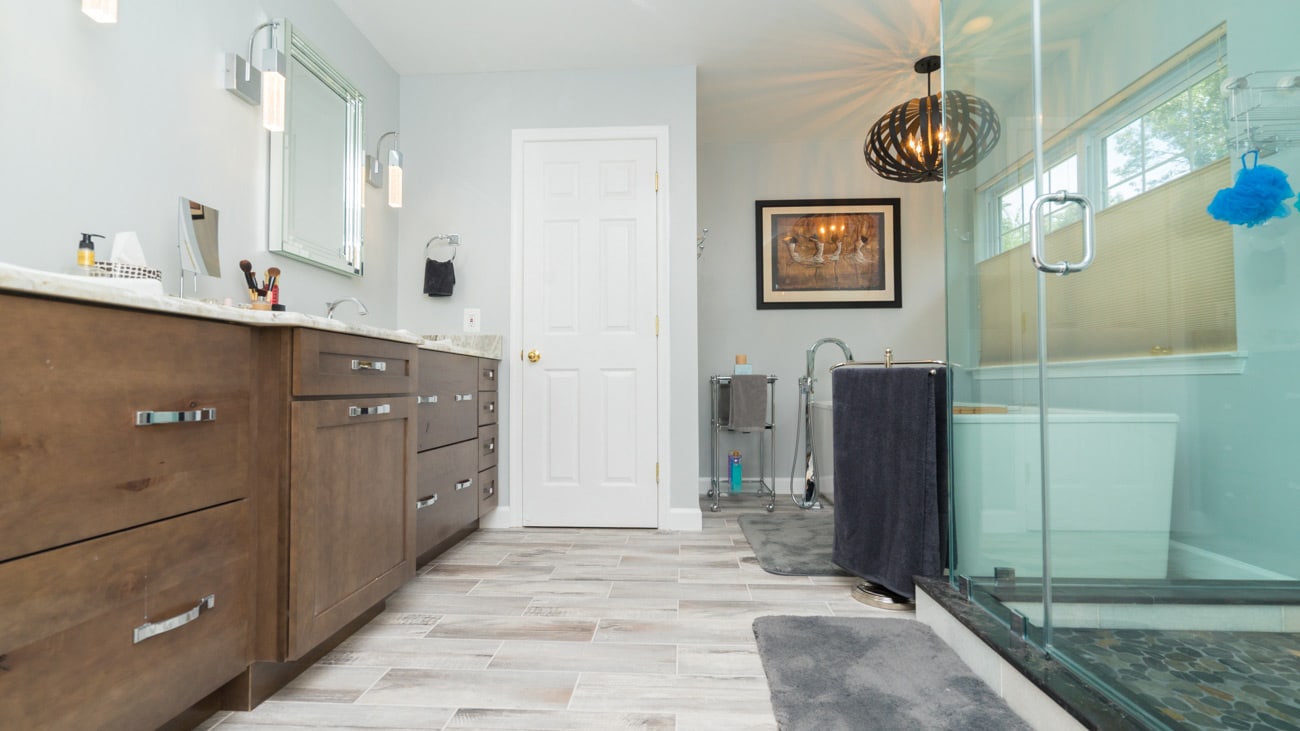 It would be an understatement to say that flooring can make a massive difference to your bathroom or rather any room. You can pick a design for the floor, and it becomes your focal point to put together the whole décor and the theme of the bathroom. 
For a small bathroom remodel, changing the flooring can transform the whole look of it. But the entire process of removing and putting up new tiles can be a daunting and expensive task. This is why you can go ahead with the peel and stick tiles option where you can easily peel and stick the tile print or design of your choice, and it will look just as new. 
6. Play with Colors
It is quite magical that just the presence of a few colors can instantly make a huge difference to your space. By colors, we do not mean the wall paint, but simple little additions of the pop of colors can transcend the bathroom's whole look. 
Adding a few bright solid colors in the sink, the mirror, or even the toothbrush holder with just a simple white background will give the bathroom a characteristic. 
When you wish to change the look, you can simply alter these colors to different shades, and you will get a whole new look without spending too much money or time. 
7. Use Ladders for Storage
Another one of these small bathrooms remodel ideas is to make the most of the ladders. Ladder storage has become a massive deal in the interior design market, especially for the bathroom in recent times. People are opting for a more raw and yet organized look with the ladders in their bathrooms. 
Moving away from the conventional drawers and storage options, you mount the ladders against the wall and use them as regular bathroom shelves for storage. You can put your clothes, towels, toiletries, plants, and absolutely anything you like on these ladders. 
8. Utilize Minimal Accents
Minimalism is the new rage for your lifestyle, and even for the interiors. Many people like to store minimum things inside the bathroom to make space look more extensive. 
You can keep minimal but attractive and chic furnishings inside the bathroom like a basket, metallic mirror, single storage, etc. These minimal accents make the space more elegant, welcoming, and stylish all at one go. 
9. Mirror Play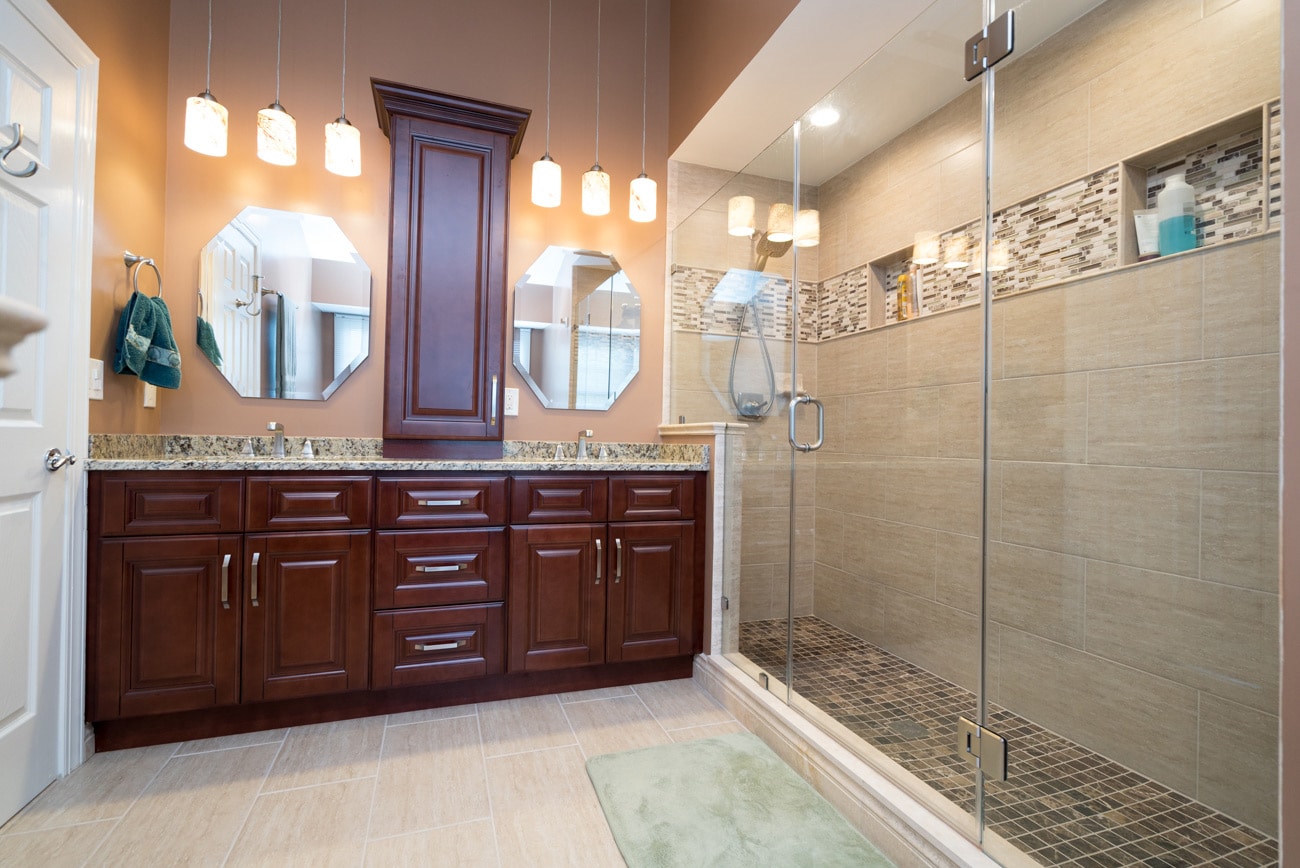 Mirrors can make space appear enlarged with their reflection play. Interior designers use this technique a lot to make a smaller space look and feel big. 
Another thing to be kept in mind is choose a lighter shade of wall color if you are going to add huge mirrors in the bathroom as it reflects the light better, making it look more natural and welcoming. 
10. Highlight the Fixtures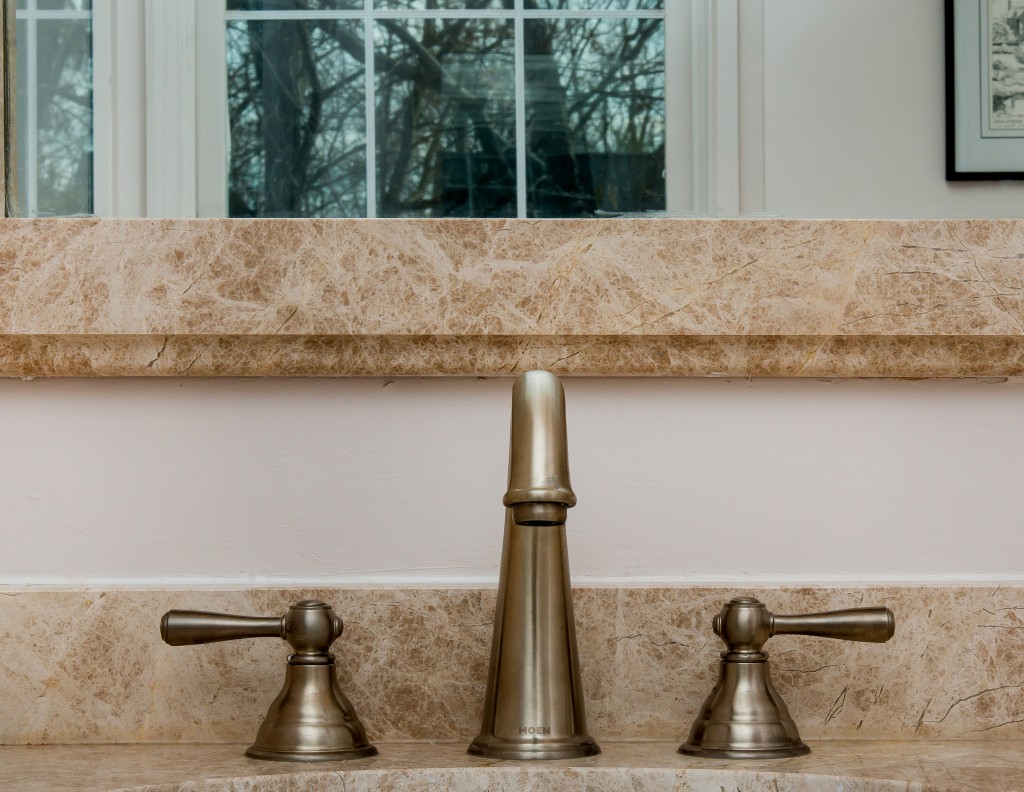 Lastly, highlighting your fixtures can make a dramatic difference in your bathroom. If you go ahead with a single tone for fixtures like black, white, metallic, or any single color, it will add the much-needed contrast. 
Be it your knobs, faucet, shower, taps, or any other accessories; drawing a single tone to them makes the bathroom appear more polished and revamped.  These were some of our fail-proof small bathroom remodel ideas that will transform your little bathroom in no time! 
VKB Kitchen & Bath is a remodeling company that specializes in Kitchen and Bathroom Remodeling. We work on small projects and major remodeling projects in Columbia. We work hard to ensure that we remove all the stress of remodeling and give you a newly remodeled kitchen or bath of your dreams. You can avail of our remodeling services in the following locations:
Baltimore | Clarksville | Ellicott City | Severn | Silver Spring |