Thinking about remodeling your bathroom? before you get into that, you need to find the purpose behind your bathroom remodel. Is your bathroom old and rusty? Are your tiles slippery and moldy? Do you lack space and basic functionality? Once you've answered these basic questions, you're ready to take on this massive project with a much clear headspace. After that, the most important thing to consider is the 'bathroom remodel costs'.
You can spend as little as $1,500 to $5,000 remodeling the essentials in a small or medium bathroom. Similarly, remodeling the master bath could set you back by $20,000 or more depending on your style and choices. 
However, if you don't feel like renovating your bathroom at once, you can start making small, nifty improvements in stages rather than re-doing the whole remodel at once. Overall, keeping the budget and bathroom remodel costs will help you choose a bathroom remodeling company near you to execute the project.
Understanding Bathroom Remodeling Costs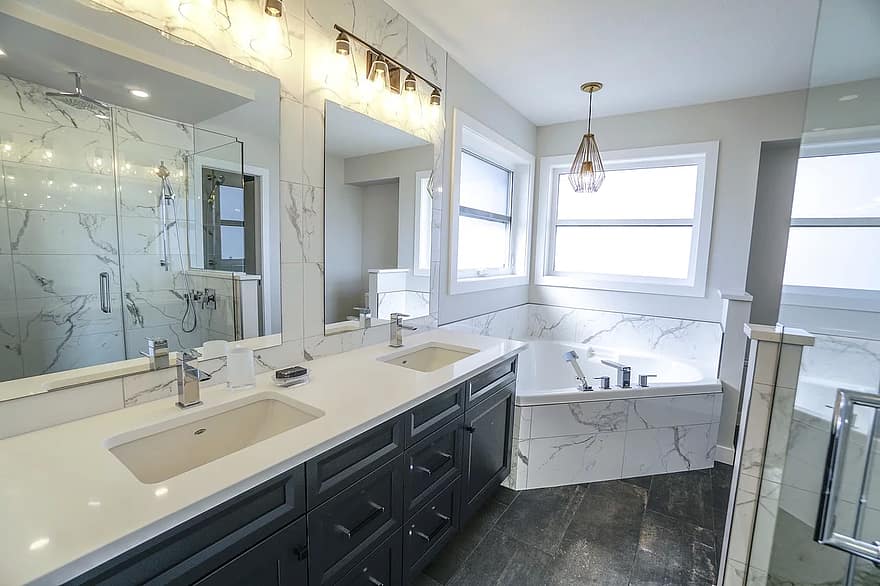 So, what truly affects the cost of your bathroom remodel? The primary fundamental factor in hiking up the budget is labor. It costs around 20% of your total remodeling cost. Hiring a professional contractor may come with its pros and cons. Pro being professional knowledge and expertise; con being expensive. One way to reduce labor costs is to put in some effort yourself. A little DIY action is a great way to stay in check with your monetary goals.
Apart from remodeling contractors, other features affect the cost of your bathroom remodel. These include baths, sanitary ware, flooring, light fixtures, and more. Let's look at all the different aspects that contribute to your bathroom remodel costs. 
Bathroom Remodel Costs by Scale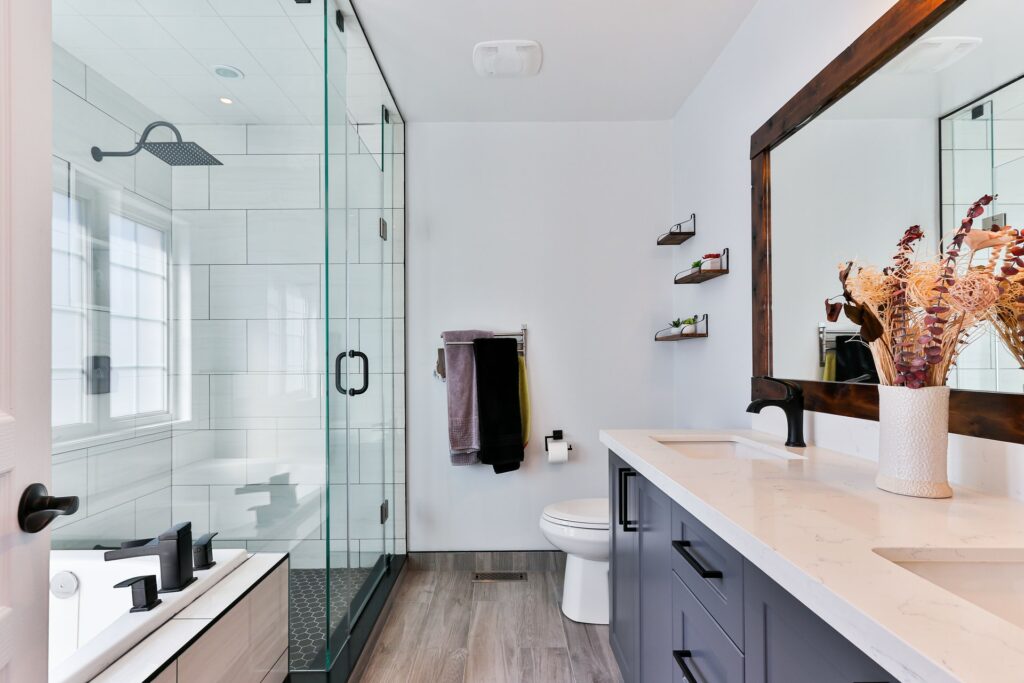 According to the National Association of Bathroom Renovation, the average cost of bathroom remodeling is around $35,000. That is roughly $875 per square foot for a 40 square feet bathroom or $350 per square foot for a bathroom that is 100 square feet.
HomeAdvisor, which provides cost guides for hundreds of remodeling projects, lists the average cost of bathroom remodeling for a 100 square feet bathroom at $20,000, including floor plans, demolitions, updating plumbing and electrical systems, installing wall and floor tile, painting, adding, a new tub or shower, faucets, vanity, sinks, and countertop.
This comes out around $200 per square foot.
However, you don't need to start from scratch in order to make a huge impression. You can also dd a new mirror, a new accent wall, and a new vanity if you are remodeling on a budget.
Here are a few examples across different price ranges
Partial Bathroom Remodel: $3,500 to $10,000
This kind of bathroom remodeling will include new tile, toilet, and sink. Also, you can just replace the sink and toilet for about $500 to $3,000.
Small Bathroom Remodel: $6,500
A 5×8 bathroom layout is among the most common bathroom sizes today. Since the size of a bathroom plays an important role in understanding the cost of a bathroom remodel, it's only fair that a small bathroom remodel will cost differently than a master bathroom. 
The average small bathroom remodeling cost is around $6,500 to $10,000. While the scale of the bathroom remodel does come into play, this is more or less what you can expect to pay while remodeling your small bathroom.
Mid Range Bathroom Remodel: $21,700
A mid-range bathroom (5×7 foot) remodel costs around $21,700 or $611 per square foot. This will include a new vanity and sink, recessed medicine cabinet with lighting, 30×60 inch porcelain-on-steel tub surrounded by a 4×4 inch tile, single-level temperature, and balanced controls in the shower.
Upscale Bathroom Remodel: $65,000+
The larger the room, and the more luxurious the fixtures and features, the greater the bathroom remodeling costs.
According to the remodeling magazine, an upscale bathroom remodel that includes expanding a 35 square feet bathroom to 100 square feet costs around $65,000 or $650 per square foot.
You can also include a glass-enclosed shower with body spray fixtures. Moreover, you can include a freestanding soaker tub, custom cabinets, high-end countertops, and electric in-floor heating.
What is the Most Expensive Part of Bathroom Remodeling?
Generally, two of the most expensive parts of a bathroom remodeling project are moving the waste line and replacing the vanity. If you wish to change the layout of your bathroom, that will involve moving the toilet, sink, or tub and need the help of a professional plumber.
You can expect to pay around $60 to $70 per hour in labor. For a bathroom of 40 square feet, hooking up new fixtures to current plumbing along with cleanup takes around 46 hours to complete. That roughly translates to around $2,070 and $3,000. Further, moving any fixtures more than three feet apart can additionally cost you around $500 to $1,000.
For vanity, prices vary whether it's a stock unit or custom-built. However, a vanity can easily cost around $1,300 to $2,000. A 71-inch double vanity in white and granite top in its low range will cost around $1,300. On the other hand, a more high-end bathroom remodel would cost you around $2,800.
Bathtubs and Showers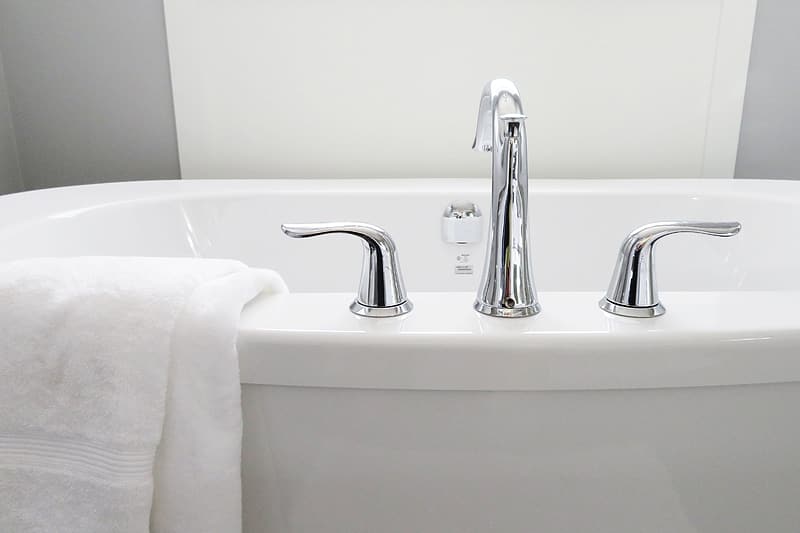 Wherever you can, save rather than splurge. Especially when considering changing your bathtub or shower while remodeling. Bathtubs are a great add-on to any bathroom remodel, but does your bathroom need one? Statistics show 40% of consumers take out the bathtub from the master altogether and sticking to 1 tub per house. You can expect to pay around $500 to $6,000 for a bathtub (based on your budget and style).
Opting for a more massive shower with glass paneling and chrome shower heads should be on everyone's remodeling list. They save space, money, and give you enough room to add those much-needed dream features while managing your bathroom remodel costs. 
On the other hand, if you want your bathtub to be the focal point of your bathroom remodel, that's okay too. Choose from different styles like a copper-soaker tub or something more modern like a faux stainless steel one. Regardless of your decision, remember that both shower and bathtubs add a significant value (and cost) to your remodel.
Sinks and Toilets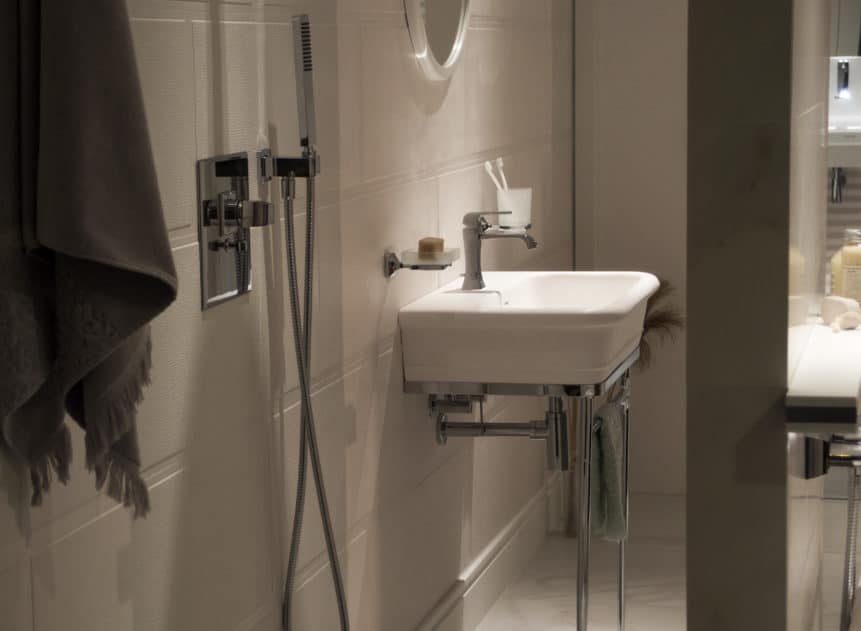 Save up by updating your sanitary ware rather than buying new ones. Your toilets and sinks, if in good condition, can be refinished. Re-doing these will allow you to deal with one less installation; plumbing, under mounting the fixture, installing the new one, etc.
Choose two-piece toilets or upgrade to one-piece toilets. They are easy to clean, more comfortable for owners, and add value to a modern, contemporary bathroom. 
When it comes to sinks, do you require two vanity sinks? One less sink means one less faucet, installation, and repairs to deal with while remodeling. Plus, more space for cabinetry. There are various sinks one can choose from; Drop-in sinks, pedestal sinks are the cheapest and a practical option for long-term use. They are available in many shapes and colors. 
An easy upgrade to pedestal sinks is under-mount sinks; ceramic and metal. They are sleek, modern, and are a good option to glamorize your bathroom.
Cabinets and Countertops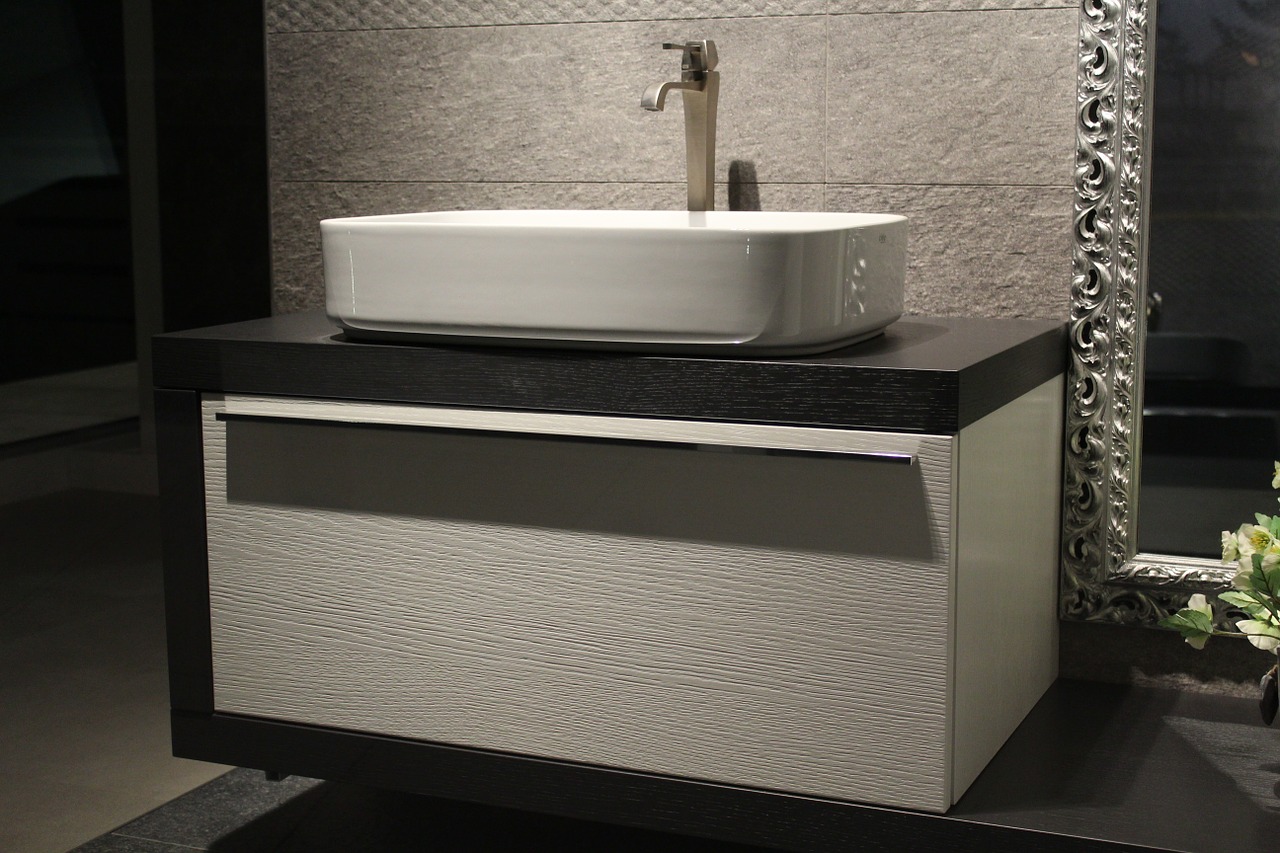 Equally, when deciding on cabinetry, at least choose a better option than just a good one. We advise this because cabinets are used daily by each individual, old or young. Going for cheap plastic cabinets won't last long and will start to fall apart within just a couple of years. Instead, installing suitable hardware cabinets and choose from different bathroom vanities to ensure long-term usage and less maintenance, even in a wet environment. It's best not to skimp on these to save on bathroom remodel costs.
Moving on to countertops. The key while selecting a new countertop is — low maintenance. Do you want to make a statement with your countertop design, or an inexpensive alternative would work too? Laminate countertops resemble natural stone countertops, and they prove to be an economical alternative. 
If laminate countertops are not for you, try looking for ceramic or engineered stone countertops. Not just that, they are easy-to-clean, resistant to molding, and durable. They are also statement pieces that will add a more luxe feel to your bathroom remodel and you can expect to pay around $800 to $900 for your bathroom countertops.
Fixing Fixtures for Your Bathroom Remodel
There's no harm in choosing chrome-finished faucets and fixtures. They are sturdy, durable, and with the right style can elevate any bathroom. Fixtures like faucets contribute upto 15% of your total bathroom remodel costs and are usually in the range of $1,000 or more.
Pay close attention to that faucet. A low-quality faucet may come cheap (literally under $50), but would it last? Investing in a superior quality fixture in the early stages of a remodel is always a great alternative to maintaining those inferior ones repeatedly. Check for the flow, finish, quality, etc. before choosing your desired faucet. 
Pull-down faucets, single-handed and double-handled metal faucets are all in trend this year, and a great add-on to your bathroom design. Moving your bathroom fixtures is the most expensive part of a bathroom remodel. You can expect to pay $2,500-$3,500 just to move your toilet or sink. The cost includes the plumbing rework, demolition, and labor charges as it is a fairly complex process.
Flooring and Wall Tiling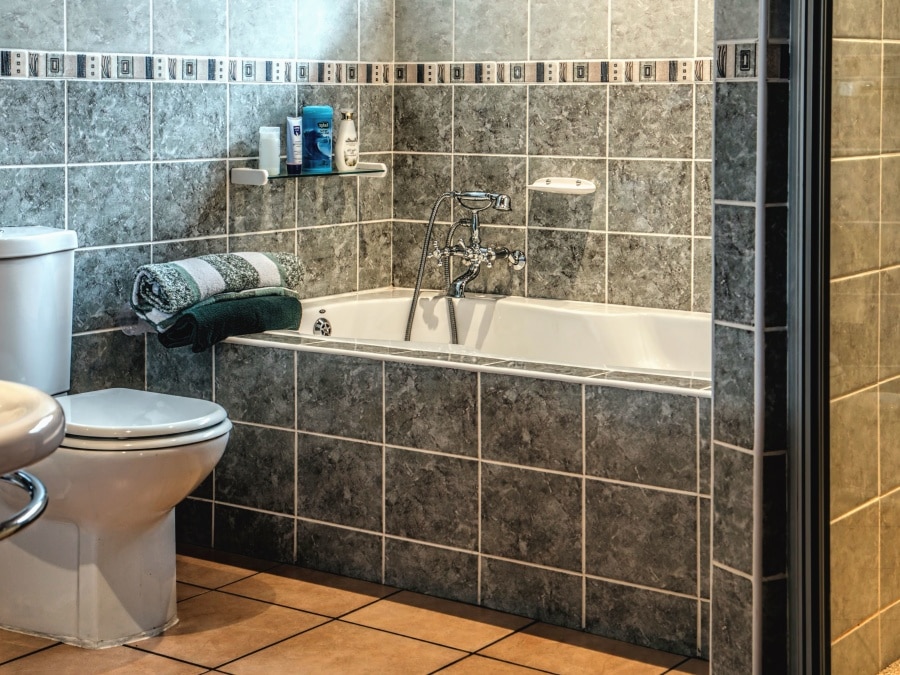 Bathroom tiles add an upscale touch to any bathroom.  Start your floors with inexpensive field tiles in exciting colors and styles. Ceramic and vinyl are the most popular fit in 2020. If you want to take a step beyond basic subway tiles, you can incorporate accent tile or try adding a tile carpet. For an ultra-high-end look, design your bathroom with mosaic tiles and statement marble tiles at your bathroom. 
With subway tiles starting at just $2 per square foot, you can splurge on that statement wall that will add to your bathroom remodel costs at around $50 and more per square foot. 
Splurge on Some Additions
We have two words for you: heated floors! Similarly, you can also choose wall art for your bathroom along with rugs, and antiques to lighten up your space all within reason. If heated floors are out of your budget, you can install a heated towel rack or a heated floor mat without breaking the bank. These or any other additions can cost anywhere between $300 to $700.
In the end, understanding bathroom remodel costs is a way for you to comprehend what works for you and what doesn't during your bathroom remodel. 
Don't Make Costly Mistakes
A bathroom remodel is an extensive process that requires a lot of detail and patience. Similarly, you can avoid costly mistakes while remodeling your bathroom by following the right steps.
For instance, cheap labor might seem tempting at first but there's a reason why it's cheap. In the end, you end up paying for the quality of work and you might have to spend more on reworking as opposed to what you would've spent in the first place.
Does a Bathroom Remodel Increase Home Value?
Remodeling a bathroom definitely increases home value. However, when considering bathroom remodel costs, remember that a relaxing bathroom attracts a broader swath of buyers. 
Homeowners spending just over $20,000 on a mid-range bathroom remodel recoup nearly 67.2 percent of bathroom remodel costs. Similarly, homeowners spending almost $50,000 on an upscale bathroom remodel, recoup around 61.2 percent of the total costs. 
So what does this look like?
Midrange bathroom renovation
Cost: $20,500
Resale value: $13,800
Upscale bathroom renovation
Cost: $50,657
Resale value: $38,252