It is no surprise to walk into a bathroom and find a bathroom mirror. While they are often used for checking your appearance, shaving, or applying makeup, there are surprisingly many more benefits to a bathroom mirror than you could imagine. Before opting not to have one in your bathroom remodel, check out the many benefits of bathroom mirrors, and you might change your mind.
#1 – Create the Illusion of More Space
In many homes, the bathroom – particularly the guest bath – is typically a small room in the home. However, the addition of a mirror over the sink can really help add depth to the space. In fact, a large mirror can make a room appear to be almost double the size that it actually is. Just a tip – if you have a window in the bathroom, placing the mirror on the opposite wall can actually increase the depth of the space even more. If no window, however, a mirror still adds a positive effect on making the room feel even larger.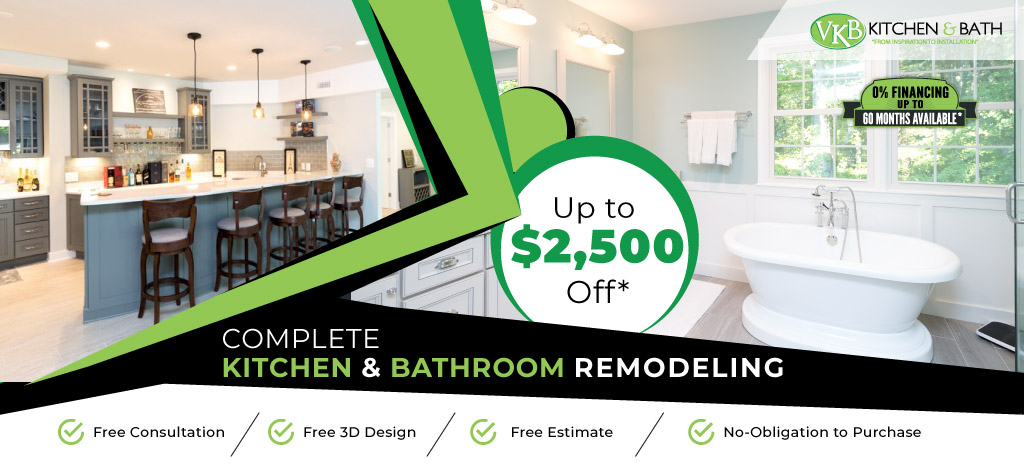 #2 – A Simple Solution for Artwork
Finding artwork to match your bathroom can be a difficult task. However, when you place a mirror on the opposite wall of a window – if you are lucky enough to have one in the bathroom – can actually create the illusion of artwork. In addition, a mirror can balance the space by creating symmetry, and serve as its own piece of artwork. This is especially true if you choose a mirror that has a decorative frame. You can even use several small mirrors in unique frames to create an 'art' wall in the bathroom.
#3 – Adding Light
Mirrors are an excellent way to add light to an otherwise dark space. This is particularly beneficial in a bathroom that has no windows, lacking natural light. The mirrors help reflect the light that is in the space, bouncing it around the room and off the granite countertop of the vanity, making the room feel much brighter than it actually is. If you want to create this effect, it is recommended that you place mirrors on the opposite walls of the lights, as this will help reflect the light even more. In addition, you can decide what will work best for you – either one large mirror or several smaller mirrors.
#4 – Hiding Storage Space
If you have a smaller bathroom that lacks storage space, a mirrored wall cabinet is an excellent option. Not only will you have the usual benefits of a bathroom mirror, but you also gain the ability to hide storage space behind the mirror. You can choose from a stock mirrored cabinet that will fit in most bathrooms, or you can have one custom built to meet your size specifications and your needs. For instance, if you need room for hygienic products of different shapes and sizes, you may want to have the mirrored cabinet custom built, so that the shelves work for you.
#5 – Added Style
Mirrors are especially beneficial in enhancing the style and design of your space, including the bathroom. There are a variety of different styles of mirrors, including contemporary, antique, modern, traditional, vintage, and modern. You are sure to find a mirror that meets the style expectations of your bathroom, enhancing the space, and bringing the entire design together.
#6 – Hygienic Benefits
It only makes sense to mention the hygienic benefits of having a mirror in the bathroom. First and foremost, a mirror gives you the ability to check your teeth for stuck spinach before walking out the door. A mirror also gives you the ability to get a close shave, groomed hair, and a shiny smile from brushing and flossing. In addition, for the ladies, a mirror is especially beneficial in giving you the ability to fix your hair, apply your makeup, and tweeze your eyebrows. Kids also enjoy having a mirror in the bathroom, as it gives them the opportunity to make funny faces at themselves while brushing their teeth, washing their hands, and combing their hair before school or bed.
#7 – Endless Possibilities
Perhaps one of the most important benefits of a bathroom mirror is the availability of styles, sizes, shapes, and colors. In fact, if you can come up with a mirror design that you could can picture being the perfect addition to your bathroom, you can find one. Mirrors are available in all sizes – from large to tiny, all shapes – squares, rectangles, diamonds, ovals, circles, and more – and all colors and materials. You can choose from wood, metal, plastic, and more. In addition, if the mirror you dream of is not exactly available, they can be custom made at an affordable cost.
You have finally discovered the many benefits of mirrors in a bathroom. Hopefully, you have determined that these are enough reasons as to why your remodeled bathroom cannot go on without a bathroom mirror.