On average, a 10×10 kitchen remodel costs between $15,000 and $30,000 or $75 to $150 per square foot. Most homeowners spend around $17,280 and $32,803 or $80 to $200 per square foot. Further, the total 10×10 kitchen remodel cost varies depending on various factors.
For many homes, a 10×10 kitchen is an average size. The 10×10 is a standard unit of measurement that designers use while calculating the total amount you will need to invest in the remodel. Although it may seem less, a 10×10 kitchen is quite sufficient for food preparation and storage area. Interestingly, the kitchen layout is large enough to include all the necessary kitchen items, including appliances and other components for everyday needs.
Furthermore, a 10×10 kitchen is adequate for a moderately sized house and doesn't cost a fortune. But how much exactly does a 10×10 small kitchen remodel cost? Here's a detailed guide to explain the same.
Average 10×10 Kitchen Remodel Costs by Fixture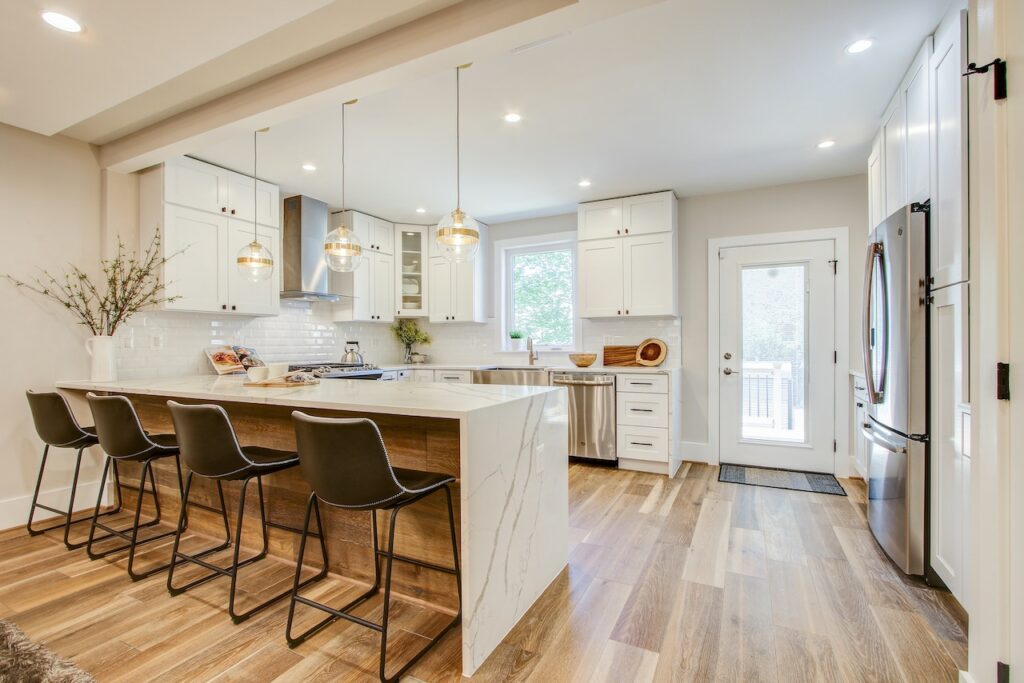 How does the cost of granite countertops compare to concrete? Will solid wooden cabinets stretch your budget? Consequently, knowing how the cost of kitchen features differs can help you plan your kitchen remodel better.
Here's what you can expect to spend on kitchen upgrades:
Kitchen Cabinetry: $4,000 – $10,000
If you are planning to replace your kitchen cabinetry, the size of your kitchen and the materials you choose can dramatically affect the overall remodel cost of your 10×10 kitchen.
While wood cabinets can cost you anywhere between $5,000 to $30,000, a high-end material like stainless steel can set you back by $25,000 to $35,000 during your kitchen remodel.
Countertops: $850 – $4,000
Besides transforming your kitchen's design, upgrading your countertops also boosts your home value. According to experts, upgraded countertops can return 30% of their cost in your home value.
Furthermore, real estate agents recommend you need to avoid loud or trendy styles. Natural stone in a neutral color is elegant as well as timeless for your kitchen remodel.
Appliances: $320 – $4,030
If you are planning a major remodel, determine the new layout of your kitchen before purchasing new kitchen appliances to make sure they will fit the space.
However, if you are looking for a deal, shop for open box discounts and clearance sales at your local store.
Installation and Labor: $3,500 – $6,500 
According to experts, installation and labor can account for $30 to 40% of the total kitchen remodel cost. Moreover, your location, types of features, and the scope of remodeling can influence the overall project labor cost.
10×10 Kitchen Remodel Cost Based on Scope of the Remodel
Now that you have got some kitchen remodel cost averages, let's dive further into the details based on the remodel scope.
Minor Kitchen Remodel: $10,000 – $15,000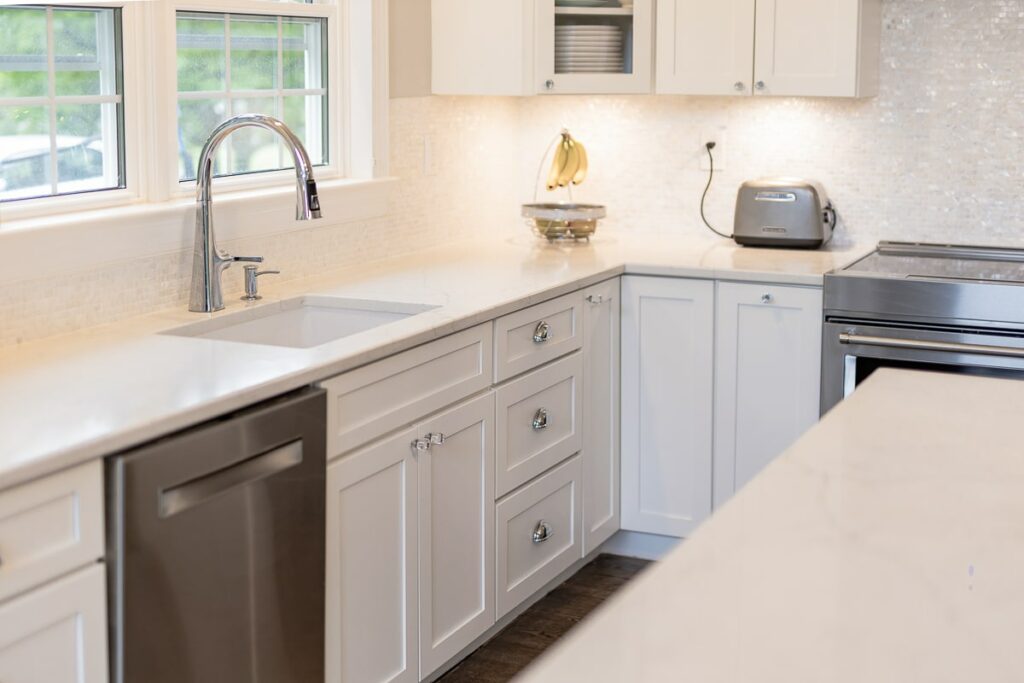 A minor kitchen remodel increases your home's resale value with easy and low-cost improvements. Further, it targets the most outdated elements in your kitchen to update your home without breaking your bank.
Where to save?
Keep the layout intact:

You need to stick to your kitchen's original layout in order to cut down additional costs of electrical, plumbing, and structural work.

Reface cabinets:

Although a mid-scale remodel needs upgraded cabinets, you don't need to start from scratch if your existing cabinets are in good shape. Interestingly, you can save thousands of dollars by refacing the new cabinets with doors, fronts, and hardware. You can easily save around $4,000 to $10,000.
Where to splurge?
Buying quality countertops:

Avoid buying cheap, grainy granite and opt for either a solid color or a veined design that looks similar to marble. You can expect to pay around $40 to $60 per square foot for granite or quartz.

Add a kitchen island

: The average cost of installing a kitchen island can depend on various factors. It can cost anywhere between $800 to $10,000 or more.
Major Kitchen Remodel: $18,000 – $30,000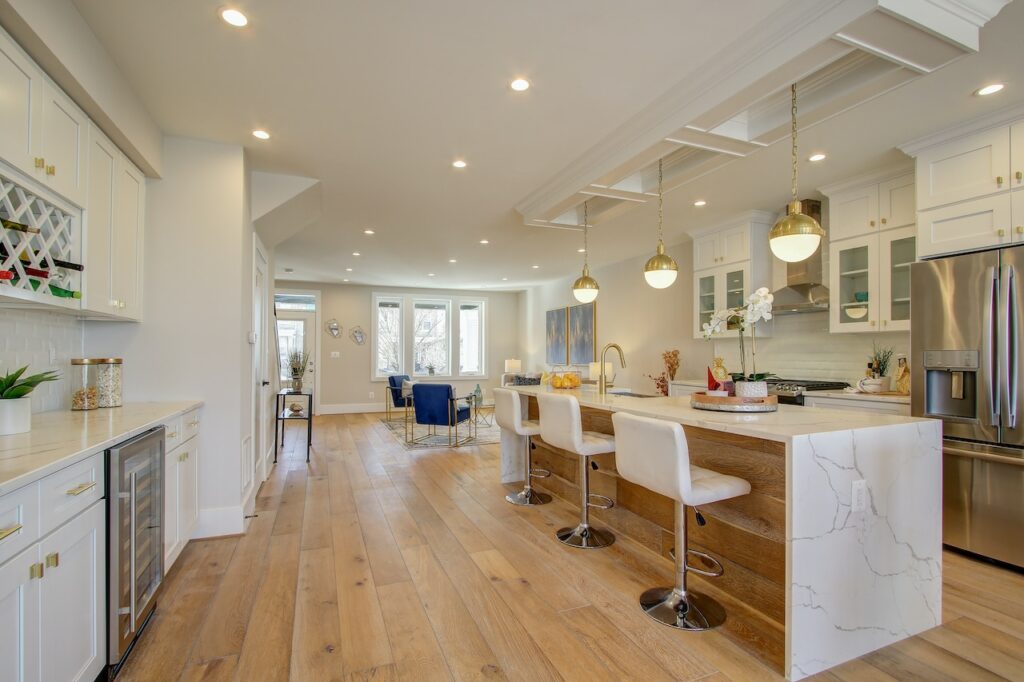 In a competitive market, a major kitchen remodel can you give your high-end home an edge over the competition. Further, this renovation entails structural changes like moving walls, reconfiguring layouts, and adjusting electrical lines and plumbing.
Where to save?
Mix high and low-end finishes:

The best design seamlessly melds luxury materials with more affordable options. You can save on faucets, hardware, and lighting fixtures. Moreover, quality cabinets and countertops will grab buyers' attention.
Where to splurge?
Open the floor plan:

You can modernize the floor plan of your house by opening the kitchen to the dining or living area. Besides, the cost of removing a non-load-bearing wall is really affordable, at as little as $500.

Add a walk-in pantry:

Home buyers love a walk-in pantry. You can convert an existing space into a walk-in pantry for an average cost of $1,200 to $6,000.
Upscale Kitchen Remodel: $35,000+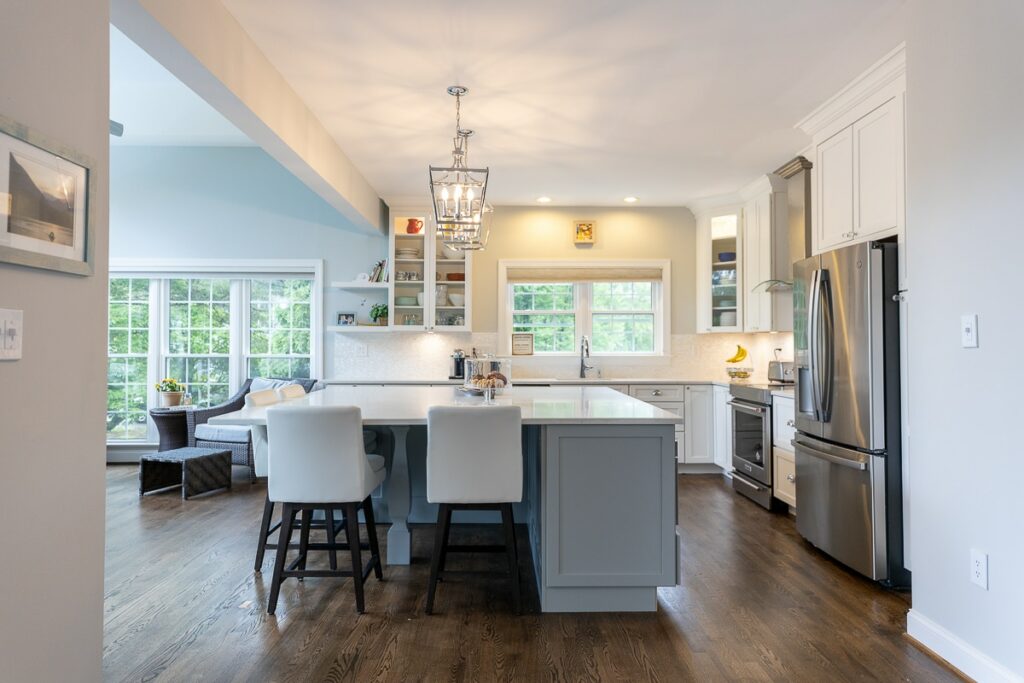 An upscale kitchen is designed for functionality as well as efficiency, with top-of-the-line appliances and a Pinterest-worthy layout.
With an eye-widening price tag, an upscale kitchen remodel brings you more joy as a homeowner than it will a high return on investment when it is time to sell.
Where to save?
Brighten the room with affordable lighting:

You can add a character with unique pendant lighting over the island. Further, for lighting below the cabinets, install hidden LED tape lights. Installation cost runs from $50 to $120 per hour on average. 

Lighting and hardware:

Lighting and cabinet hardware are an opportunity to save. 
Where to splurge?
Select high-end appliances:

You can buy a top-of-the-line refrigerator for your kitchen. 

Build solid countertops:

Professional-grade stainless steel countertops cost around $80 to $210 per square at an average of $7,500 for installation. 

Design a functional layout:

You need to keep in mind that layout is everything, so expect to splurge on custom cabinets running an average of $600 per linear foot.