You probably spent most of 2020 in your home and especially in your kitchen. With that, you've also looked at your old kitchen and wondered, 'what can I change?' The new year is the perfect excuse to remodel your kitchen with the latest kitchen trends 2021.
From some classic designs to minor fixes, these trends will ensure that your kitchen gets the revamp it deserves.
Add Wooden Elements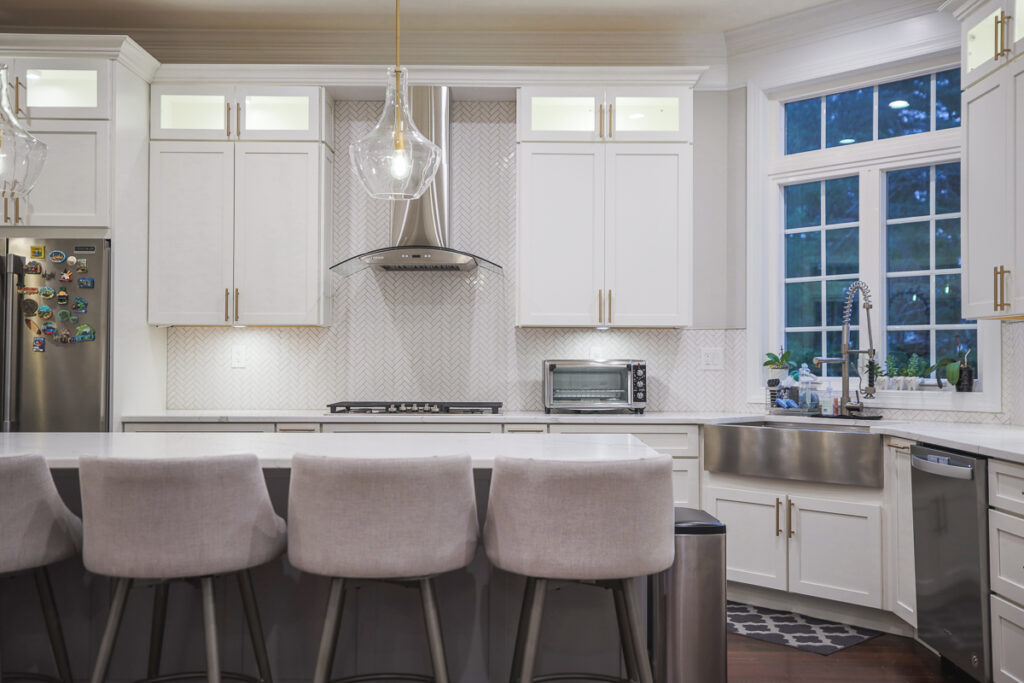 If you are looking for that vintage look in a modern kitchen, inculcating wood in your design is the way to go. Wood adds texture and gives you a nice, vintage feeling. Wooden cabinets never run out of trend. If you match your hoot with cabinets, that itself will give you a unique design. 
Working with wood requires adequate knowledge and tools. If you are involving a professional, they'll do the job for you. But if you are looking to get your hands dirty, choose the right kind of wood and make sure you get the measurements right.
Invoke Luxury With Granite
Just like every other year, granite countertops are a part of kitchen trends 2021. You can never go wrong with a classic countertop material like granite. However, if you do want to add a modern twist to it, consider choosing a copper fixture for your kitchen sink.
It's also important to remember that granite comes with a hefty price tag and you'll need professional help while installing it. Getting a professional to help you with the installation will save you from unnecessary costs and headaches.
Choose an L-Shaped Open Kitchen
If there's something that every interior designer is somehow bringing in their 2021 kitchen designs, it is an open style L-shape Kitchen layout. It feels airy, spacious, and goes amazingly well in modern homes. 
L-shaped kitchen layout allows homeowners to use the existing space wisely, providing them an opportunity to bring in more elements into the kitchen.
Add Some Plants
Adding plants to your kitchen adds life to it. Whether you are making an early morning quick breakfast or late night dinner preparations after a hectic workday, greenery in your kitchen helps you stay in a good mood.
Along with all of these, adding plants in your kitchen brings in visible design changes to your kitchen. But make sure to add only those plants which are suitable for the kitchen environment. Discuss with your designer or your contractor or even your local nursery to get the right set of plants for your kitchen.
Choose a Rustic Brick Wall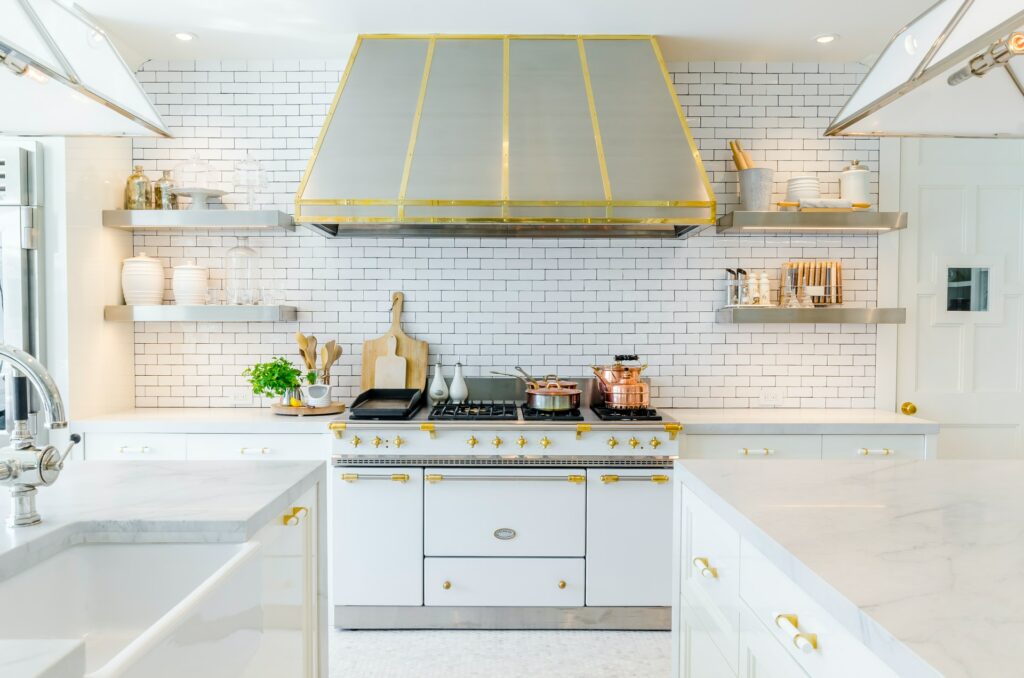 Raw brick walls add that rustic look to your kitchen. The color of these bricks adds contrast to everything in the kitchen and making it a showstopper in your home. If you want to amaze your guests, make sure to include these kitchen trends in 2021 immediately.
You can choose to have a brick wall as your backsplash or you can use bricks for other walls in your kitchen. If all of this seems too much, you can go with a realistic 3D wallpaper that resembles a brick wall. 
Add Grayish Tones
Grayish tones are in every minimalist's palette. They add incredible grace to any design and kitchens are no different. If you are looking for that minimalistic look, include some gray tones and see the magic.
Go with gray for your backsplash and choose any lighter colors for your cabinets. This minimal and contemporary trend is among the most popular kitchen trends 2021. 
Tip: If gray tones are too plain for you, add some plants. They'll add contrast and life to your kitchen space!
Tiny Home Kitchens
When tiny homes are becoming a norm these days, utilizing space the right way is definitely necessary. Add a breakfast nook to your kitchen and open it up to your living room. This added open space is particularly helpful if you're working from home and want some more breathing room.
It goes to show that no matter how small your kitchen is, you can always remodel it into a beautiful one by utilizing the available space wisely. 
White Kitchens With a Dark Backsplash
All-white kitchens have always been the designer's design of choice for ages. But all-white kitchens can look bland and may not be very inspiring. If you bring in some dark colors into your kitchen along with white, it adds contrast and can look stunning. 
For instance, you can go with white for everything including your cabinets, and use dark colors for your backsplash. A two-tone kitchen design will give it an edge and balance out both these design elements.
Back to Black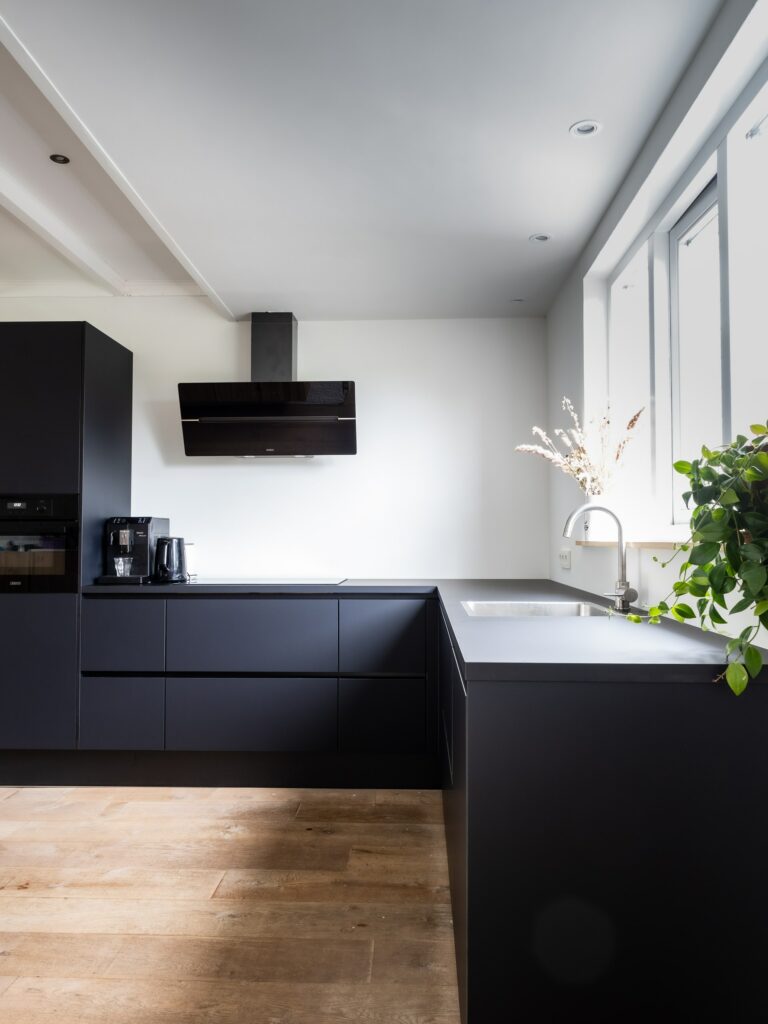 If you are looking to go rebel against all-white kitchens, then going with the exact opposite i.e., with an all-black kitchen is a wonderful way to introduce this rebellious kitchen trend of 2021.
While an all-black kitchen sounds exciting, it may not be for everyone. However, if you do want to experiment, add some elements like gold handles or checkered flooring to add some contrast.
Adding Antique Elements
Out with the old and in with the older? Antique elements are a huge part of kitchen trends 2021.
Bringing in any kind of antique elements can completely change the way your kitchen looks. You can do that by either adding salvaged fixtures, some copper elements, or even some hanging copper light fixtures. 
Antique elements can take you back in time every time you enter your kitchen giving you a nice, warm feeling each time you cook and eat in the space. 
Open Shelving is Still In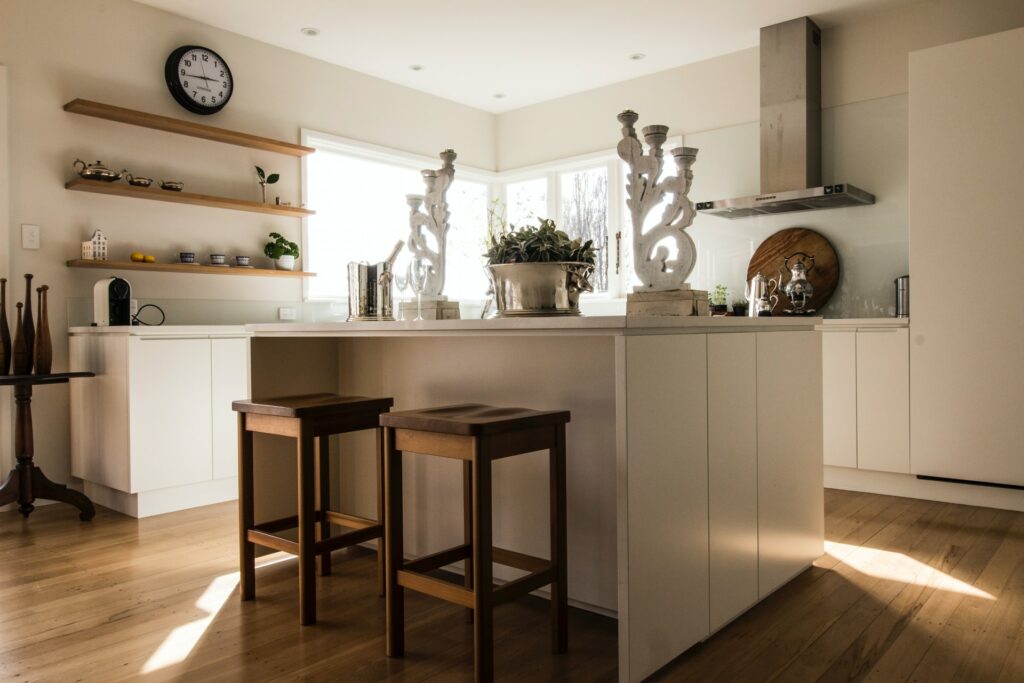 One of the major kitchen trends of 2021 is to get rid of all the upper cabinetry. Open shelving seems to be here for the long run. Not only does it open up your kitchen but also adds some design and character to your space.
However, make sure that you store your expensive china in traditional cabinets to avoid any mishaps. You can also add a pot rack to store those bulky pots and introduce some rustic charm to your 2021 kitchen.