Homeowners usually store large kitchen utensils inside their kitchen cabinets. This is the reason shelves are an alternative storage solution.  But with every home, there are certain open shelving kitchen do's and don'ts that you need to consider before investing in them.  For example, an avid baker or a busy mom knows what they truly need to get through the day. 
So having things in front of you without rummaging through the cupboards is always a blessing. Also, beautifully designed shelving means functionality at its best. You can have everything you need on hand. 
On the contrary, a small open shelving kitchen is often filled with ornamental pieces to elevate the beauty and the interior look of a kitchen. Secondly, you and your guests will get to admire your exclusive cookware. ca
To help you organize your open kitchen better, here are some helpful open shelving kitchen Do's and Don'ts. 
Open Shelving Kitchen: What You Should Do
Modern Geometric Wallpapers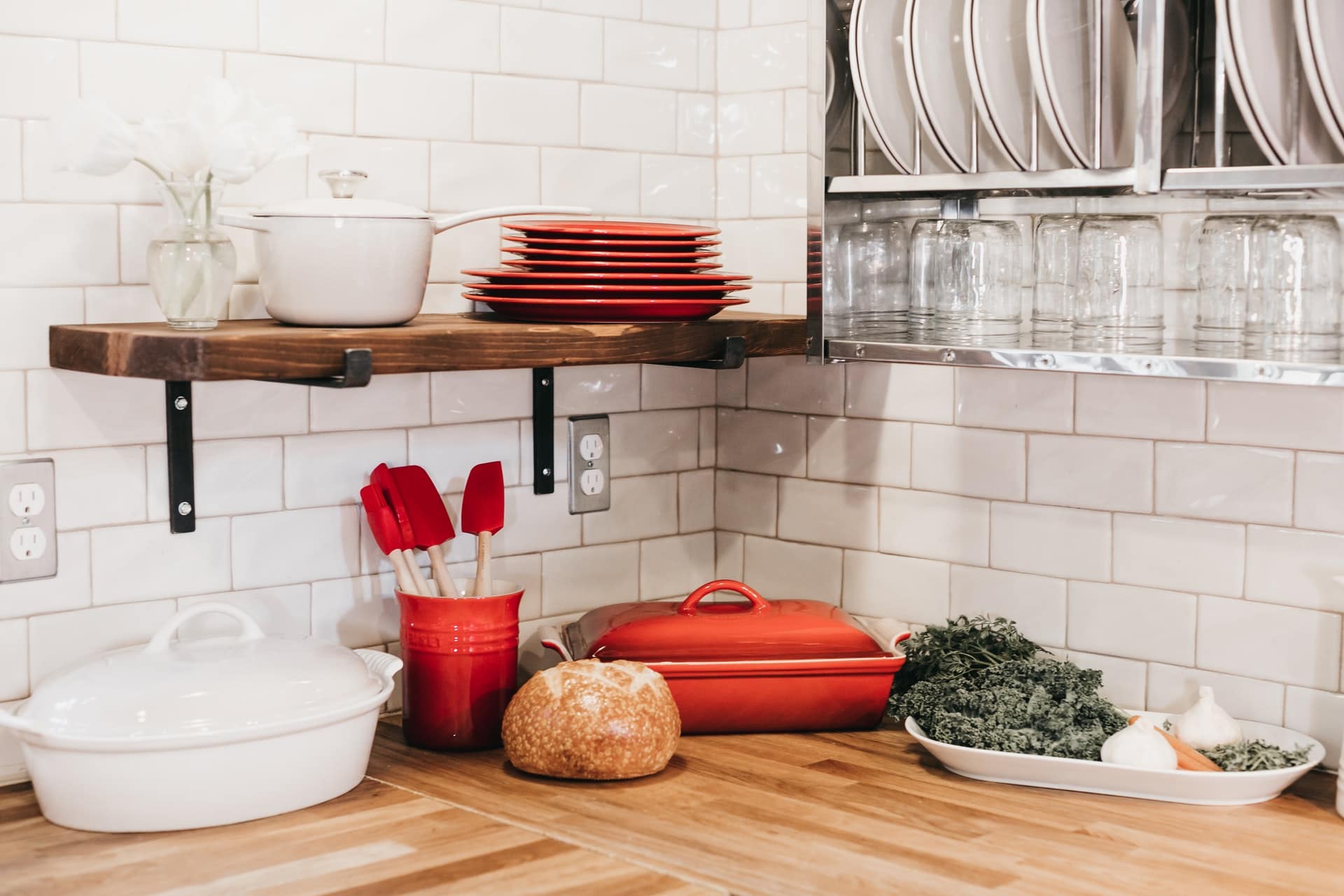 Mix modern geometric wallpaper with neutral wooden tones of the shelves in your kitchen interior. The wallpaper will give your wooden shelves a bold look. Similarly, it will also give you a new spatial perspective. 
To do this, renew your kitchen wall with a fun, geometric wallpaper of your choice. Get your measurements and take wooden logs. Simple, cut and sand them, then screw them on the wall. There you have it, a modern open shelving idea in minutes. 
Camouflage it
This one is the opposite of the previous shelving point. The former point mentions how you can show it all off; now, you should learn how to disguise it. 
Do you want your kitchen shelves to have a subtle look? Luckily, it's easy to achieve. Opt for white or plain subway tiles for your backsplash. Once you're done, then add all white shelves to camouflage it. 
With this simple trick, you can expose your kitchen utensil collection. At the same time, when you're not using them, turn it all into your kitchen centerpieces.
Iron Rod to Hold it All
Do you have heavy pots and pans in your kitchen that need some sturdy ground to hold them? An alternative way to achieve this requirement is to use iron or pipelines. 
Use a wrought-iron shelving system that you can connect and screw to your wall and ceiling. You can use this idea to deal with open shelving and test with tons of kitchen items and activities. But, if you're not usually that busy in the kitchen, you can skip this one. 
Enormous Storage System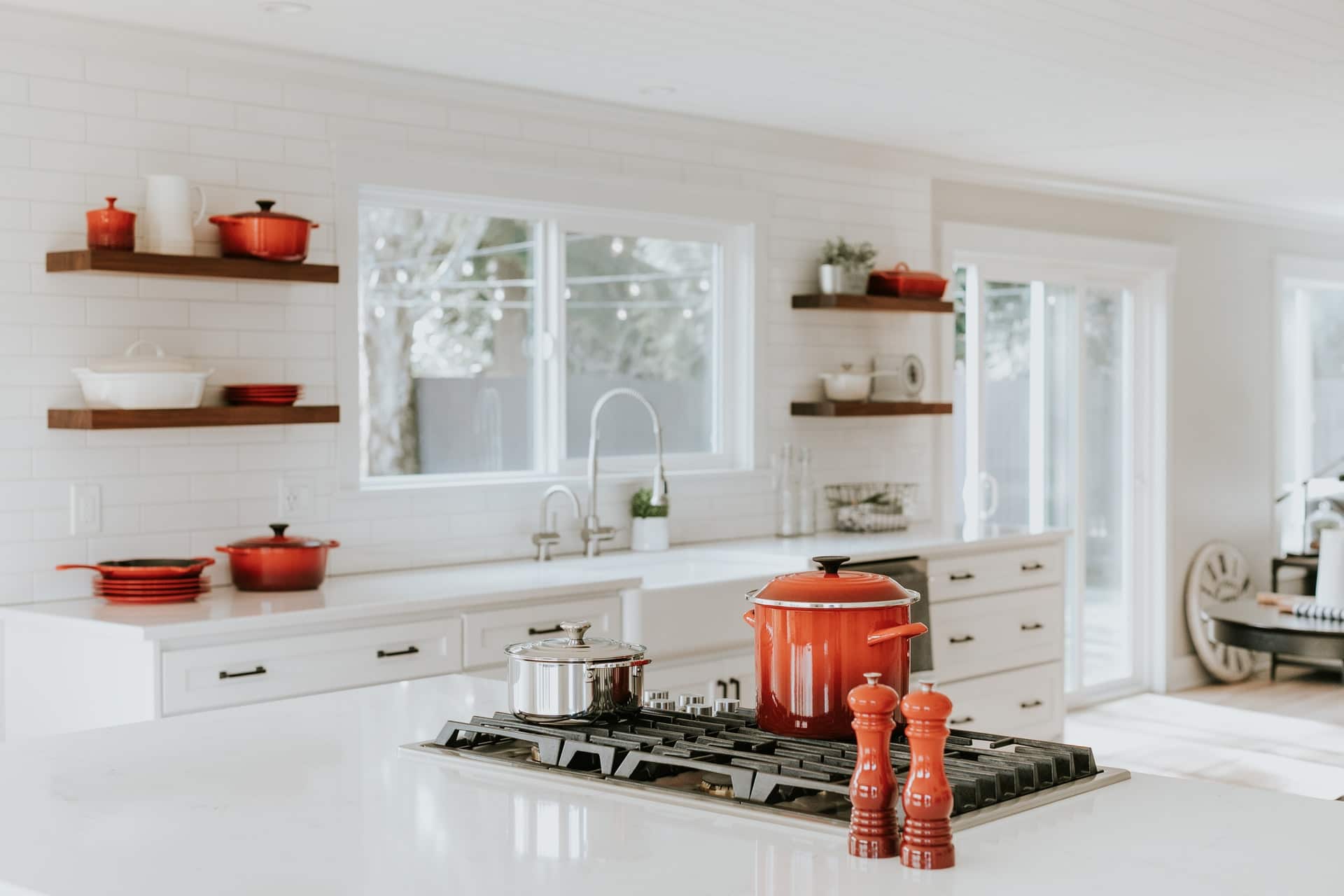 If you have a tiny kitchen, you may want to invest in a shelf that touches down the floor and goes all the way up to the ceiling. This way, you'll be able to utilize your existing wall space wisely. 
To avoid breaking or falling, you can install this enormous shelving instead of hanging shelves. These work great if you have a ton of kitchen accessories and cookware to store in a small space. 
Besides, you can have extra advantages with this shelving system. Make sure you have the middle shelving line higher than other lines. 
This way, you'll be able to accommodate taller kitchen utilities. Similarly, you'll create balance and a new aesthetic design appeal to the kitchen space. 
Create a Library
A kitchen needs more than an island or cabinet to store things. You can turn a regular kitchen table into a new small library too. 
You can place all your favorite pieces and increase your kitchen value. You can even choose corner shelving to elevate your library. 
If the corner shelves are complete with a nice layout and simple craftsmanship, it will make a lovely spot to display those masterpieces. Also, this corner shelving idea is everywhere, and it comes with a variety of kitchen utensils and decor storing options. 
Try them out and have your very own artistic wall filled with masterpieces for the world to see. 
Open Shelving Kitchen: What You Shouldn't Do
Nothing in the home improvement industry comes without a few setbacks. So while the positives were great, here are some open shelving kitchen don'ts to remember before starting a remodel to avoid costly mistakes. 
Don't Overcrowd it
At first, it might seem like a great idea to put everything you own on display. Stop right there. Instead, opt for a minimal design. 
In fact, less is always more when you have any sort of shelving, be it open, hanging, or floating. You can slowly fill it up with your favorite pieces and kitchen items instead of cluttering the shelves from the get-go. 
Don't Be Afraid to Test Things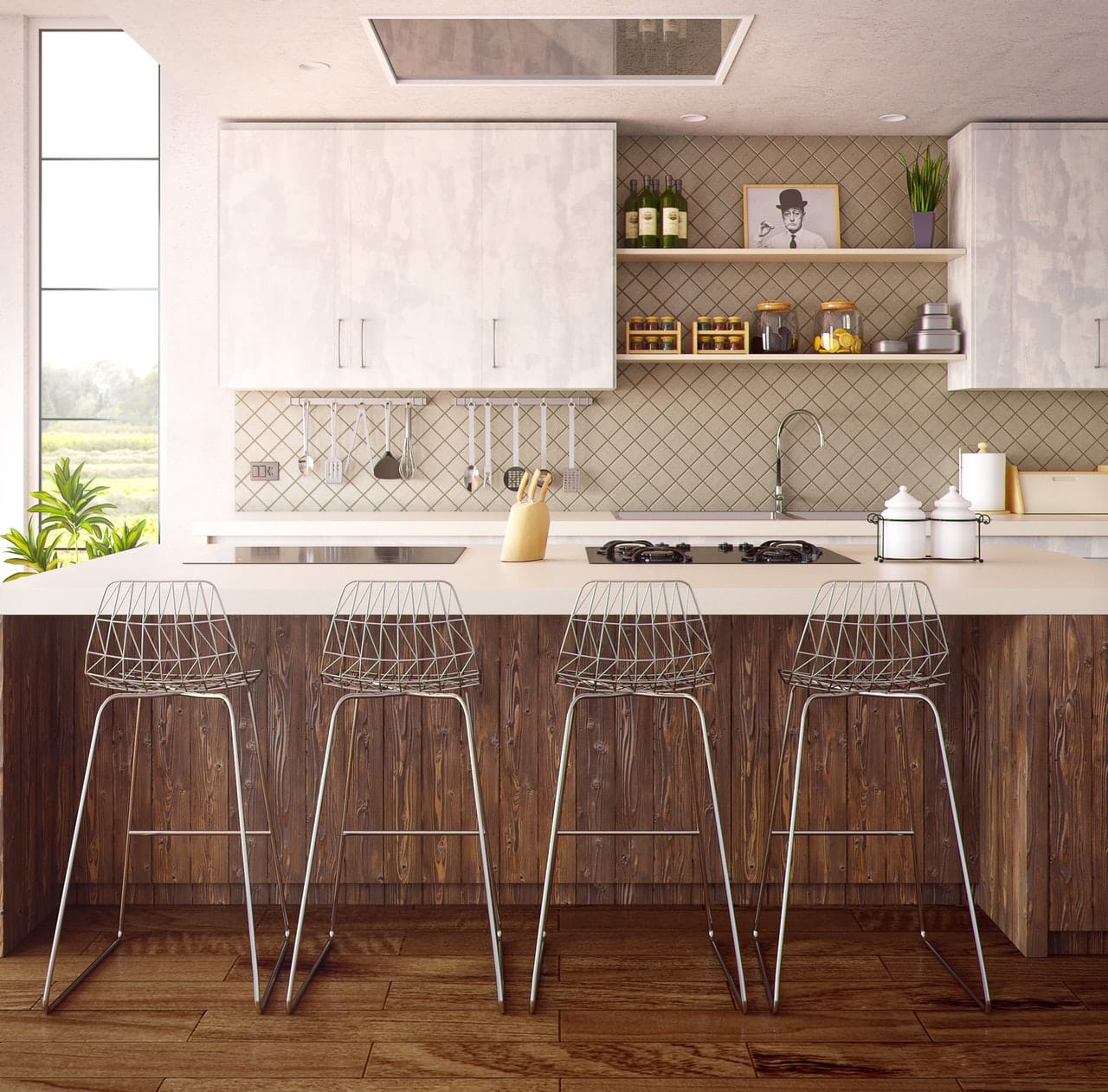 It might seem overwhelming to make your shelves look pretty. Don't overthink this stage. It's just a matter of time. 
For instance, you can look for design inspiration online and offline; try what you know. It might take a few takes, but there is no right or wrong way to arrange a shelf. Also, if you're not satisfied, you can always re-arrange them as and when you like. 
Don't Invest a Ton of Money and Energy
An open kitchen shelving idea shouldn't have to consume a lot of money and energy. They are supposed to be fun, simple, and functional. 
For instance, you should be able to make it into a simple but fun DIY project too. That said, you're installing these to add more storage to your space and also some appeal. But that doesn't mean you have to spend a ton to support it. You can look for wooden logs; or ready-made, easy DIY options to get them done. 
Don't Install a Poor System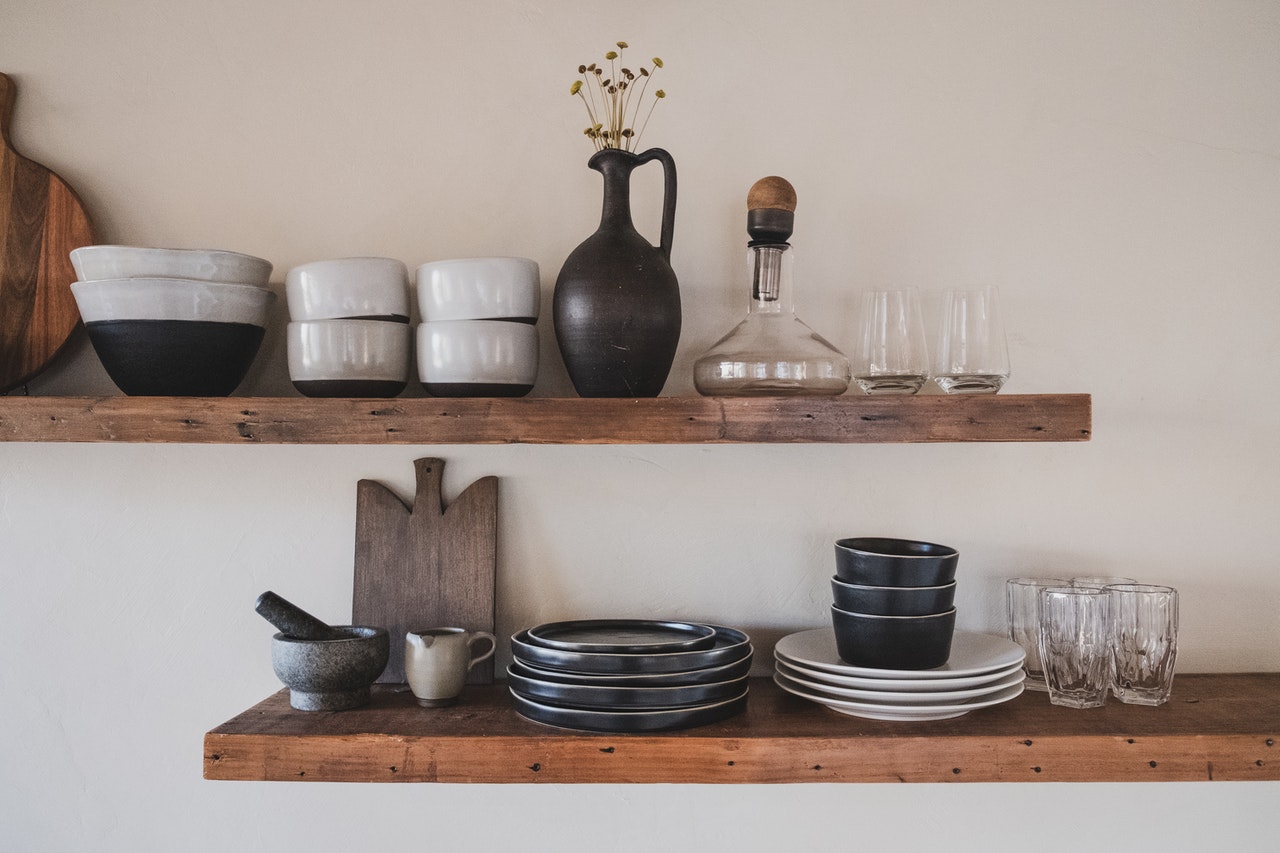 Kitchen items such as plates, bowls, and teapots are also in need of special shelves themselves. Due to their weight and material, it's best to build a reliable storage system. 
As a matter of fact, it will be a waste if your glassware breaks into pieces because of a flawed shelving system. You can try and copy designs made from reliable materials like wood, pipe shelves, and screws. 
This way, you'll have enough space to stack things up. Similarly, make sure it's wide enough to shelter a microwave and taller items too. 
On the other hand, it is sturdy and isn't likely to cost you a considerable amount. If you have old wooden doors or cupboards, you can cut and repurpose them for your open shelving kitchen idea.