When you're remodeling your bathroom, you need to focus on the overall lighting of your space. Unfortunately, most bathroom lighting ideas are mostly perfunctory. Even though they are essential, lighting doesn't get the importance it deserves during a bathroom remodel.
It is important to remember that bathroom lighting is one of the most important bathroom remodel steps. Following the right rules of bathroom lighting can make your bathroom appear welcoming and spacious. 
Like every other aspect of designing, bathroom lighting ideas can involve several approaches. Nevertheless, we will guide you in picking up the best bathroom lighting ideas apt for you. 
Layered Lighting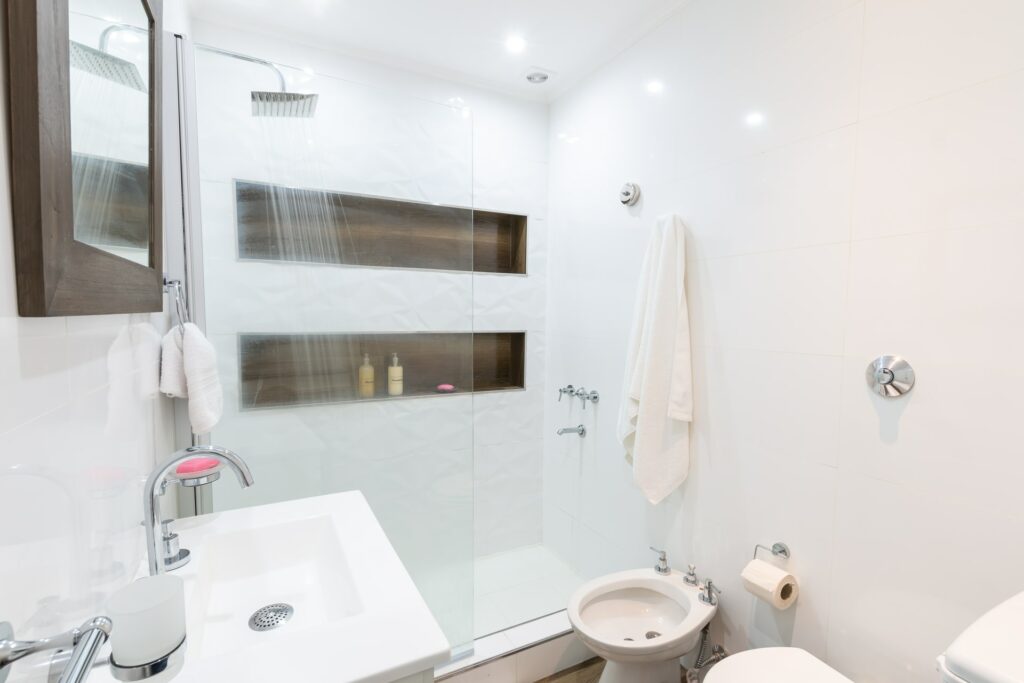 Layered lighting is one of the most expansive bathroom lighting ideas for a bathroom remodel. It utilizes three different types of lights – accent, task, and overall. Accent lights come in the form of profile lights, backlit mirrors, or pendant lights. Task lights light up zones based on function, while overall lights generally illuminate the entirety of the place.
Generally, this bathroom light system begins with the ceiling lights and moves towards the vanity space in various layers.
Flanking the Mirror with Lights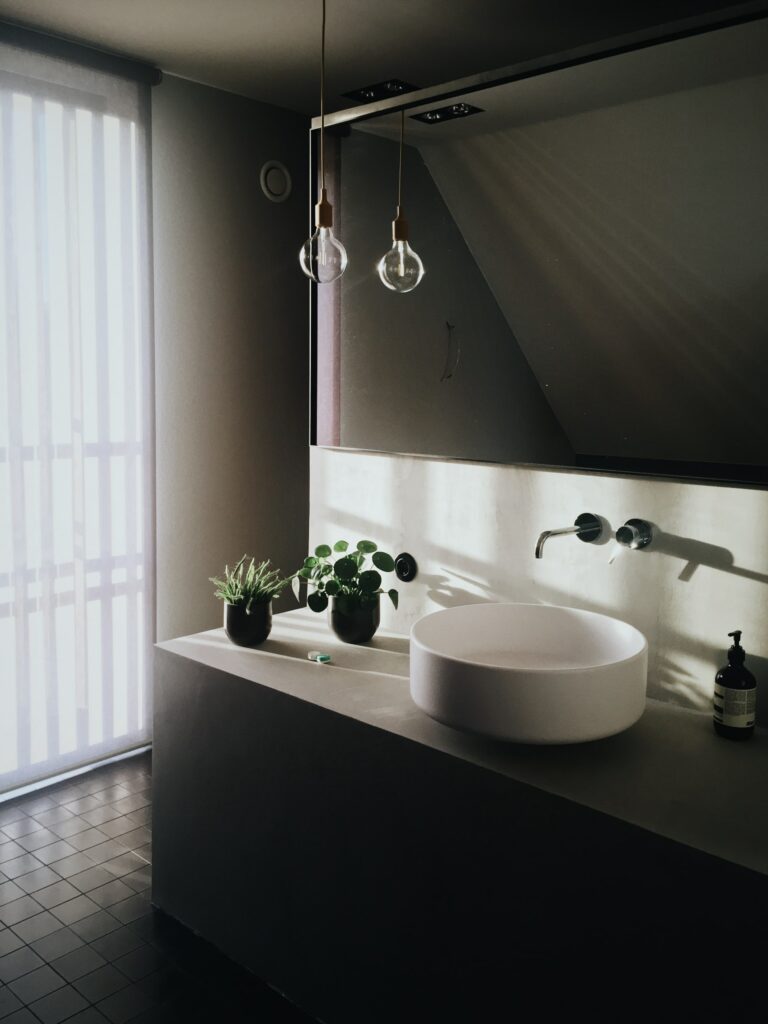 Normal ceiling lights in a bathroom generally provide an adequate amount of ambient light. However, it can be insufficient for grooming and makeup tasks. Lighting from above can produce splotches, lines, and shadows across your face when you are putting on makeup or shaving.
On the other hand, it is much more recommendable to place a vanity light, pair of vertical sconces, or bath bar on every side of the mirror. Such an arrangement will provide ideal lighting for tasks demanding detail.
Backlighting or Profile Lighting
Backlighting, which intends to highlight profiles, is one of the most dynamic bathroom lighting ideas you can use. With a little effort on your part, it produces a dazzling effect in your bathroom. Such lights generally work wonderfully in backlit panels or around mirrors.
Admittedly, backlighting does not significantly enhance the functionality of a bathroom. However, it does add a neat touch of creativity and style to the place. Thus, profile pieces essentially serve as accent pieces for your bathroom.
Mood Lighting for Ambiance
Among the more expansive bathroom lighting ideas is the inclusion of lights that envelop your bathroom in their serene cadence. They create an atmosphere of warmth and tranquillity in the space. Usually, it involves flattering and soft lighting, which almost universally elevates one's mood.
Speaking of a bathroom, you should consider going for pendant lights for this purpose. To experiment with this kind of lighting, you should choose a zone or corner. They produce drama much more effectively in those areas.
Using LED Bathroom Lighting Ideas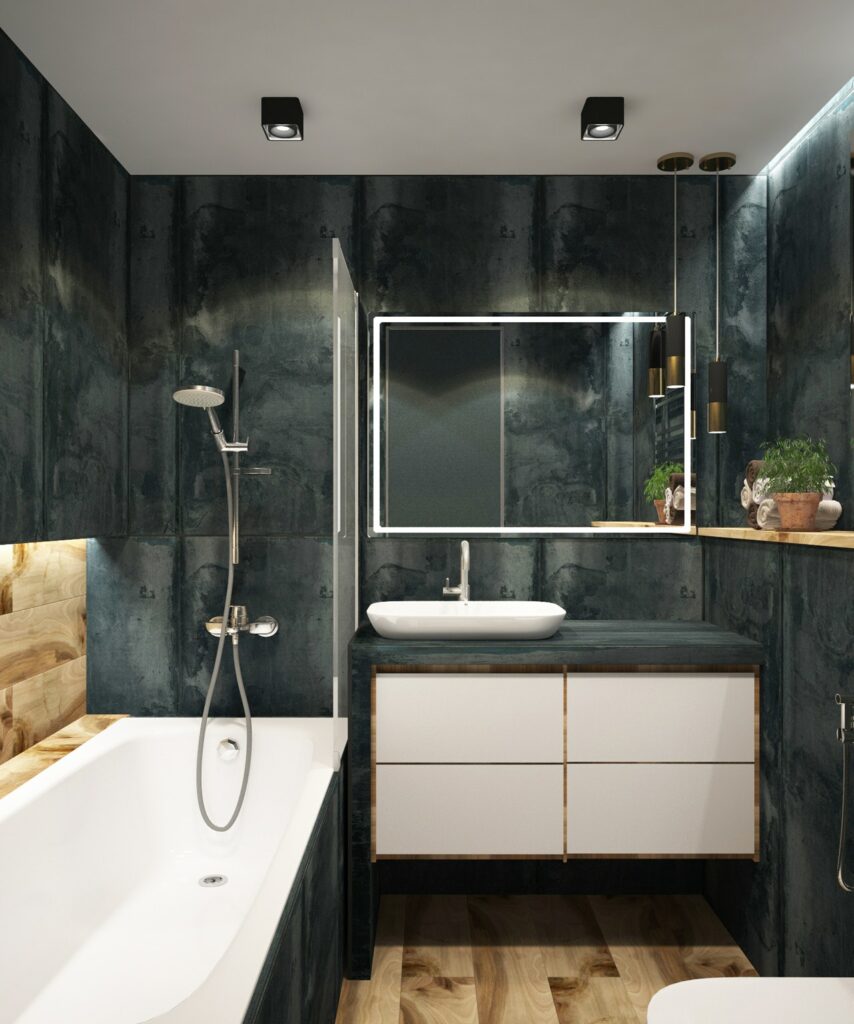 Among the most eco-friendly bathroom lighting ideas is the use of LED lights. They are cost-effective, convenient, and energy-efficient. They involve significantly less hassle and are thus a very recommendable option when it comes to bathroom lighting. Apart from that, they will last for several years as well.
You should consider a more contemporary and clean-lined look for your bathroom as well. For using them as textured lighting, you can combine them with incandescent bulbs.
Using Recessed Lights for Focus Lighting
Recessed lights are attached to the false ceiling in a bathroom. They face downwards and help in lighting up the entire bathroom as it spreads downwards. If you put them just above mirrors that reflect light, they make your space appear even brighter.
For instance, you need to ensure that your shower or jacuzzi area has adequate lighting during the bathroom remodel. You have the liberty of experimenting with various colored lights in that regard.
Task Lighting for Important Zones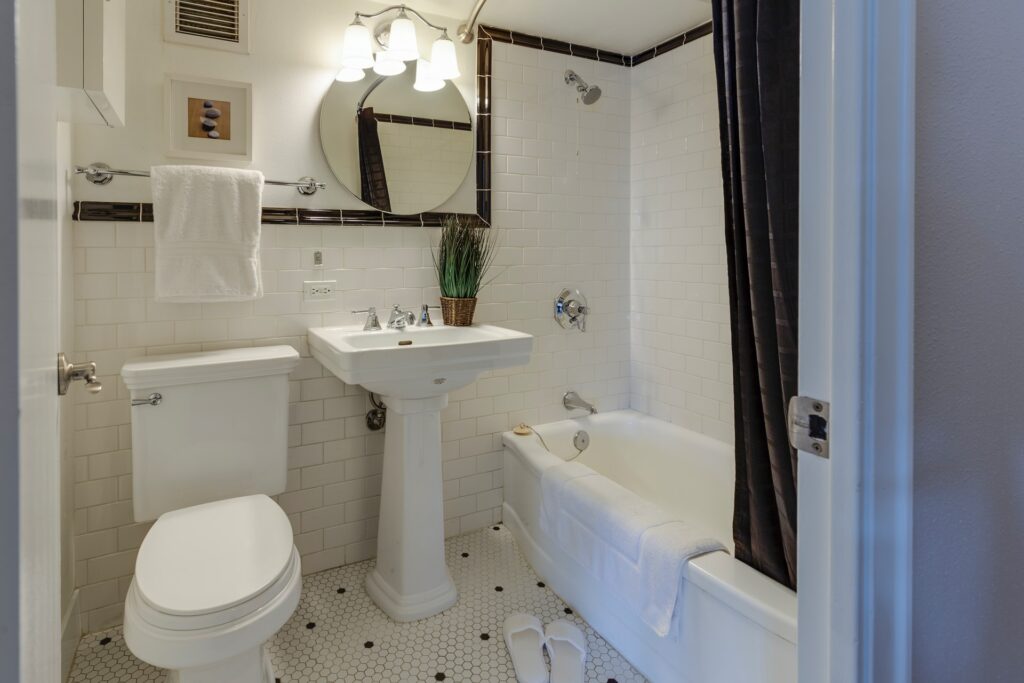 Like most other rooms in your house, you can divide the bathroom remodel into various zones. Of these, the wet-dry zones demand particular attention. Looking even more closely, you can divide the bathroom layout into the bathing zone, toilet zone, and vanity mirror zone. Specific more luxurious bathrooms come with a dressing zone as well.
Keep in mind that it is advisable to give each of these zones its own source of lighting. Since you will never be using every zone simultaneously, it becomes apparent that you should have different kinds of lights to illuminate them.
Task lighting is intended for lighting the various zones within your bathroom. For instance, you need it in the bathroom vanity area for brushing teeth, shaving, and so on.
Bright Lights with Dimmers
In order to carry out daily tasks like washing, shaving, and showering, your bathroom needs to be properly lit. For that purpose, you will have to install bright lights in the bathroom. However, these bright lights can be irritating and intrusive when you try to have a relaxing bath in your hot tub.
In such situations, installing a dimmer switch can prove to be helpful. Bright lights that are equipped with dimmers can take care of most of your requirements. They will help to create a perpetually relaxing atmosphere in your bathroom to soothe your mood.
Today, there are a variety of dimmers available for fluorescent, incandescent, and LED lights. Contemporary dimming controls from Legrand Adorne are especially recommendable for your bathroom remodeling project.
Natural Bathroom Lighting Ideas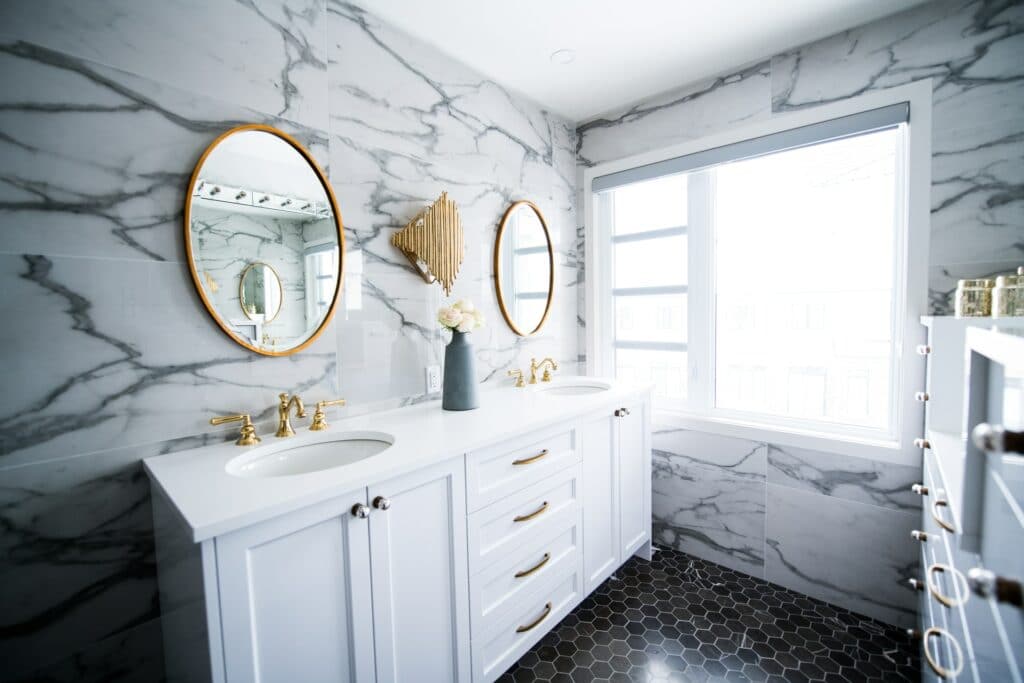 Natural lighting in your bathroom is genuinely irreplaceable. Experts agree that the real color of our hair, face, clothes, and makeup comes forth in natural daylight. Thus, the closer you manage to mimic the same in your bathroom, the better it will be for your small bathroom remodeling project.
You should consider going for bathroom lighting fixtures in white shades – whether clear, frost, or any other. Apart from that, you must install light bulbs that render colors correctly for your space. Such bulbs could be LEDs, compact fluorescent bulbs, or incandescent bulbs.
Creative Lighting Arrangements
Bathroom lighting ideas can incorporate a significant amount of creativity and innovation to your bathroom remodel. If your space allows for it, you can select a decorative fixture for your ceiling light.
When you turn off other lightings in your bathroom, you can produce a truly magical and calming effect using semi-flush ceiling lights and little chandeliers. If you wish, you can try adding a little portable lamp on your bathroom counter as well.