Planning the décor of any bathroom can be a little challenging. You need to find the best bathroom wall options that are waterproof to prevent any bathroom remodeling mistakes.
Living rooms, bedrooms, and even kitchens can flaunt just around any wall coverings. However, the case with bathroom walls is different. Since a bathroom is prone to moisture, wetness, and spills and splatters, homeowners need to look out for the best bathroom walls that can withstand the humidity and still look pleasing to their eyes.
If you plan to remodel your bathroom and lookout for the best bathroom wall options, we have a list for you. Interestingly, these bathroom wall options are tried and tested and will not cause any damage when exposed to moisture. 
Here's everything you need to know about the best bathroom walls before you begin your bathroom remodel.
Wallpapers
Wallpapers especially made for the bathroom are undeniably among the latest trends in bathroom design. These versatile wallcoverings offer the most practical solution you could wish to decorate your bathroom walls. 
Bathroom wallpapers are specifically made for this type of environment and are adept at resisting humidity and providing a lasting solution for your bathroom remodel. Moreover, the latest generation wallpapers allow an infinite range of customizations by offering the possibility to change the appearance of the space with minimal effort radically. 
You can also choose from a range of designs and patterns to create a charming bathroom environment. Similarly, you can also opt for elegant imitation effects in stone and wood for decorations inspired by the beauty of nature or abstract elements.
Wood Paneling for Bathroom Walls
If you want to instill a refreshing warm look in your bathroom, then wood paneling for bathroom walls could be a great option. Wood wall covering in a bathroom may seem like a risky choice considering all the moisture and humidity. 
However, wood coverings made of particular types of wood are resistant to moisture and can adapt to a humid room. These exotic wood coverings will give your bathroom a warm atmosphere. 
Whether it is placed on an entire wall or to dress a base, you can introduce a unique, classic style to your bathroom with wood. However, you should note that exotic woods are the most expensive on the market. 
If your budget does not allow the installation of wood covering, you can turn to imitation wood tiles. It will give your bathroom the same warm glow at a lower cost and will be easier to maintain too.
The Bathroom Tiles
Undeniably the most used material to decorate bathroom walls, tiles offer a range of personalization and decor options. From the most classic styles to contemporary designs, tiles can blend in with any bathroom remodel design.
Versatile and durable bathroom wall tiles can take on any style and effect you want – marble, wood, slate, etc. Moreover, tiles are resistant to wear and also repel humidity. 
Further, they are relatively easy to clean and require minimal maintenance (although you have to monitor the condition of the seals to avoid water seepage). However, tiles installation is a bit complicated, so it is better to let professionals handle this task.
Mosaic for Bathroom Walls
You should know that the mosaic has an ancient and precious history behind it. Therefore if you choose to use the mosaic to cover your bathroom walls, you will imbue your bathroom with a refined, elegant, and timeless look. 
Despite what it might seem, mosaic tiles have excellent characteristics and not just visuals. It can be in several materials, glass, porcelain, stoneware, or even natural stone. The mosaic creates fabulous decorations on your bathroom walls. 
Mosaic is one of the most stylistic bathroom wall options. Indeed, opting for mosaic is a choice of character and a class that can coincide with the need for a unique and refined design.
Special Bathroom Paints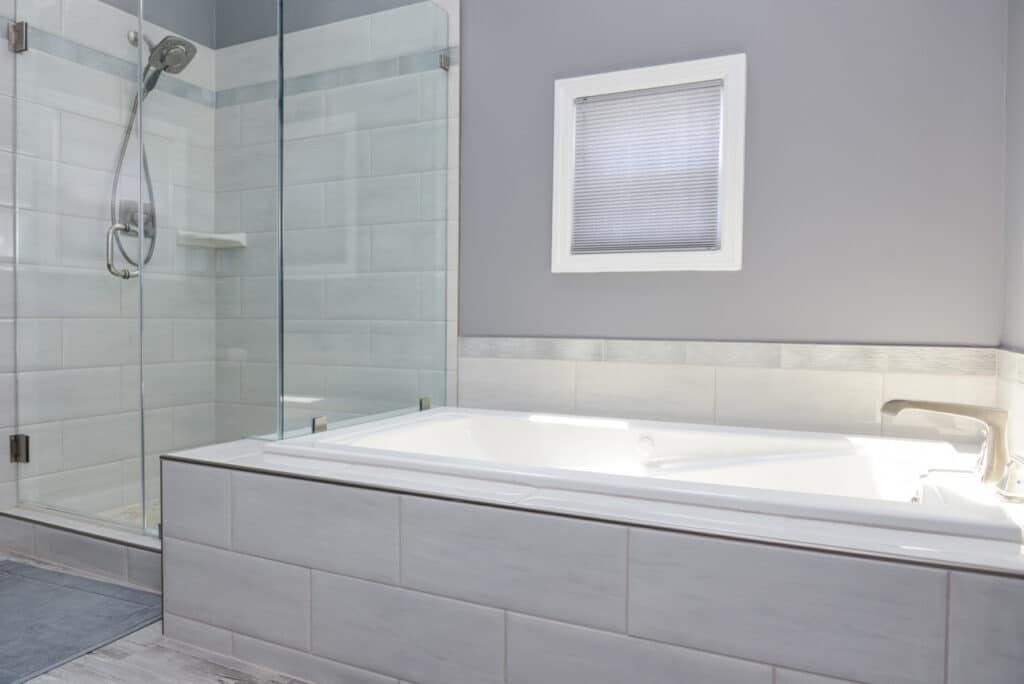 Bathroom paints allow limitless possibilities when it comes to your bathroom remodel. Allowing an extensive range of colors, however, the paint must be absolutely for the bathroom wall coating. Painting your bathroom walls also allows you to choose from a wide range of suitable bathroom colors that align with your design.
Anything not specifically for the bathroom will otherwise damage easily and could even lead to mold formation. Although the water-repellent paint is easy to apply and provides easy maintenance, the walls should be in good condition and smooth for the best results. An undercoat is also recommended to allow better adhesion to the paint. In addition, even the water-repellant bathroom paint does not mean that you can apply it throughout the bathroom. 
It would be best if you avoided areas directly exposed to water, such as above the bathtub or on the walls of a walk-in shower. Any water-repellent paint will be resistant to ambient humidity but not to daily exposure to water.
Marble Wall Covering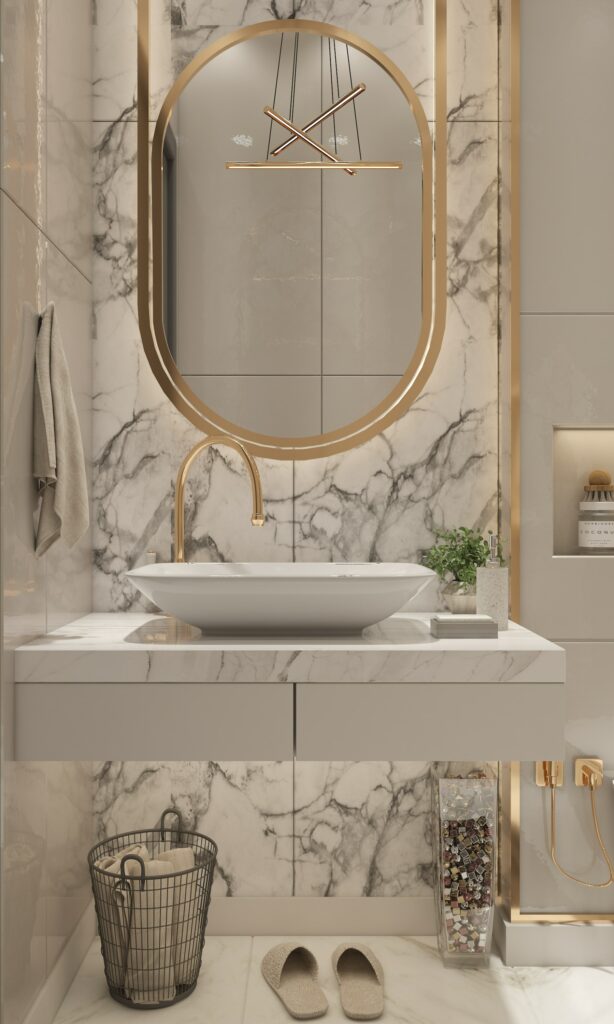 One of the best bathroom remodeling trends for walls is none other than marble. Marble characterizes a luxurious and eye-pleasing environment. Choose to cover your bathroom walls with marble. You will create an elegant and luxurious room with mesmerizing characteristics that will amaze even the most unmindful guests.
Each marble tile is unique thanks to its distinctive veinings, which create a beautiful and exclusive environment to resonate with welcoming and positive vibes. This distinctive and antique material will give you a bathroom with heartwarming characteristics. However, despite its durability, marble is a relatively porous material and therefore vulnerable to stains. 
However, it won't be a suitable choice in a humid bathroom environment if you cannot ensure regular maintenance or seal it periodically.